Contact lens value packs - 5 combos of contacts and solutions with discount

Contact lenses and a solution in a special price bundle? Thanks to these packages, you save at least 5% when buying your usual contacts packed with your favourite contact lens solution product.
In this blog, we will introduce the five top-rated packs. If you have a different combination of contacts and solution, you can explore more valuable packs here.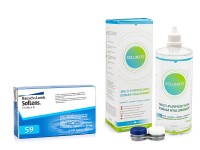 SofLens 59 (6 lenses) + Solunate 400 ml
The first bundle that we are introducing is ideal for brand new wearers. Monthly SofLens contacts are easy to apply and to take out, the Solunate solution doesn't cause irritation and is well tolerated by people with sensitive eyes.

Buy this value pack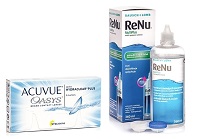 Acuvue Oasys (6 lenses) + ReNu MultiPlus 360 ml
This bundle brings you bi-weekly lenses that can be worn continuously if needed – for up to one week. With an easy application, the lenses were made specifically for sensitive eyes. Their tolerance with ReNu MultiPlus – 100%.

Buy this value pack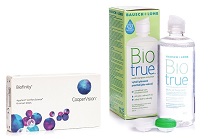 Biofinity (6 lenses) + Biotrue Multi-Purpose 360 ml
One of the healthiest monthly contact lenses on the market, accompanied by a solution with three bio-inspirations. They complement each other amazingly; this package offers one of the most common combinations of lenses and solutions.

Buy this value pack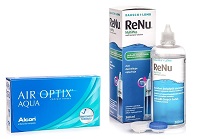 Air Optix Aqua (6 lenses) + ReNu MultiPlus 360 ml
In this bundle, we put together the versatile ReNu MultiPlus solution and monthly contact lenses which are among the best for oxygen permeability on the market – their permeability is 5× times higher than that of hydrogel contacts. A combination ideal even for the most sensitive eyes.

Buy this value pack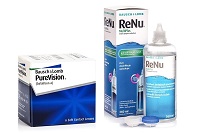 PureVision (6 lenses) + ReNu MultiPlus 360 ml
Even continuous wear contact lenses can't exist without a solution. There are situations every day that require you to take the contact lenses out, rinse them and leave them in a solution, whether for a shorter or longer while. And that's what the ReNu MultiPlus is made for.

Buy this value pack
No time to read the whole blog above? No problem. Here's the list of the value packs.
SofLens 59 (6 lenses) + Solunate 400 ml
Acuvue Oasys (6 lenses) + ReNu MultiPlus 360 ml
Biofinity (6 lenses) + Biotrue Multi-Purpose 360 ml
Air Optix Aqua (6 lenses) + ReNu MultiPlus 360 ml
PureVision (6 lenses) + ReNu MultiPlus 360 ml
Best selling products