Our visit to Alcon's European headquarters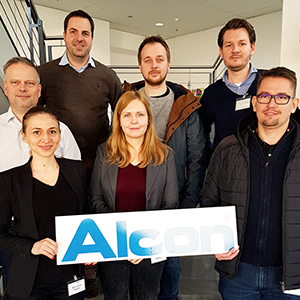 When two pharmacists, Robert D. Alexander and William C. Conner, opened a pharmacy in Fort Worth, Texas, in 1945 and called it Alcon (after the first syllables of their surnames), nobody knew that at the end of the second decade of the 21st century, their company would be one the most crucial players in the field of contact lens production and distribution.
Nowadays, Alcon is synonymous with innovation. It not only pushes the potential of contact lenses and solutions, but it also makes key progress when it comes to production and dispatching. We could see it with our own eyes – on 7 February, we visited Alcon's manufacturing and distributing facilities in Grosswallstadt.
Welcome Maternia!
In Grosswallstadt, they win your hearts the moment you arrive – a welcome message on the electronic board. A nice touch. In the arrival hall, we met with Samantha, who told us about the history of Alcon and Novartis, which Alcon is a subsidiary of. We found out some interesting behind-the-scenes numbers, learned about the great effort that goes into ensuring the happiness of customers and employees, about the quality of contact lenses and recycling. The biggest (pleasant) surprise was the extent of Alcon's 
investment
into science and education.
Contact lens manufacturing in Alcon? A remarkable experience
In Grosswallstadt, everything is controlled by custom-made machines. The production goes on non-stop, 24 hours a day, seven days a week. We saw how the
Dailies AquaComfort Plus Toric
are made – every step is carefully planned, every production phase is followed by quality control, using photosensors and artificial intelligence. Before a lens is sealed in a blister, it has to go through three checks: the shape, the material and the blister seal. The whole process is quick, and scrap rates are basically zero.
The distribution centre can deal with thousands of parcels a day
Just like the production, distribution is almost completely automated. 40 000 parcels leave the logistics centre for Europe on a daily basis and only special orders are wrapped and processed manually.

Our visit to Alcon's European headquarters showed us where the future of manufacturing and distribution of lenses is. We will try to implement a lot of the things that we saw there in our distribution centre in Nová Bystřice, from where we dispatch our lenses to the whole of Europe.
Best selling products