WEARING MAKEUP AND CONTACT LENSES? PRETTY EASY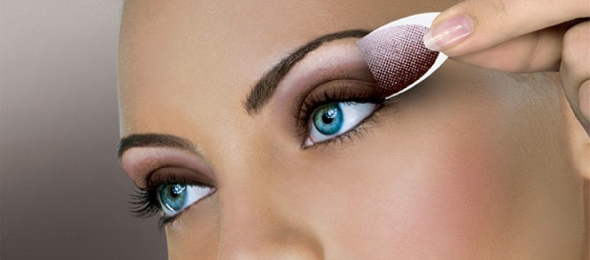 Sometimes it's hard to juggle how you see, with how other people see you.
Many people think that, because they wear contact lenses, they can't use makeup. Not true. Especially when there's so much expert advice out there on how to wear makeup, and lenses, and still have happy eyes. Advice like ours, for example…
1. Applying: lens first, then make up
Applying makeup can be a fiddly business, so it makes sense to put your contact lenses in first to help you get a better look at things. This also has the advantage of reducing the risk of applying lenses over bits of mascara or powder that may have contaminated the eye after application.
2. Removing: lens first, then make up
Same order. Different reason. It's a good idea to take your contact lenses out before you remove your makeup. It's not detailed work so you don't need to look closely, and you'll also avoid contaminating your lenses with makeup remover, which should, by the way, be gentle and hypoallergenic.
We have prepared for you special instructional videos: How to put in and take out contact lenses? Have a look!
3. Quality control
Wearing contact lenses makes eyes more vulnerable to inflammation and infection, so only buy good quality products that are less likely to cause irritation. You should, ideally use ones that are ophthalmologically tested, and all of your products will need to be replaced regularly to make sure their quality does not fade.
4. False alarm?
It's not a good idea to wear false eyelashes if you're a contact lens wearer. The combination of glue, lenses and eyes is a little alarming. But if you simply can't resist wearing falsies, it's best to apply them after the lash glue has completely dried.
5. Types of makeup and lenses
The type of makeup you use can make a big difference as to whether it's compatible with contact lenses or not. It's all about trying to avoid getting contaminants and pollutants in the eye. So avoid powdered eyeshadows – opt for cream ones instead –and try to stay away from oil-based skin makeup that's applied near the eyes. Never apply eyeliner on the waterline, and if you can, choose disposable contact lenses.
6. Be kind to your eyes
If your eyes are at all itchy, sore or red for any reason, avoid wearing makeup altogether. And if this problem doesn't go away, visit your "optician or eye doctor.";/blog/5-things-your-eye-doctor-wants-you-to-know.html
Remember: You can't look good without seeing well.
Do you have any tips for wearing makeup and lenses? Or maybe you have some stories to share that will help others learn what NOT to do. Let us know!
Best selling products