Focus DAILIES Progressives (30 lenses)
Boots Near & Far is also sold by name Focus DAILIES Progressives (30 lenses)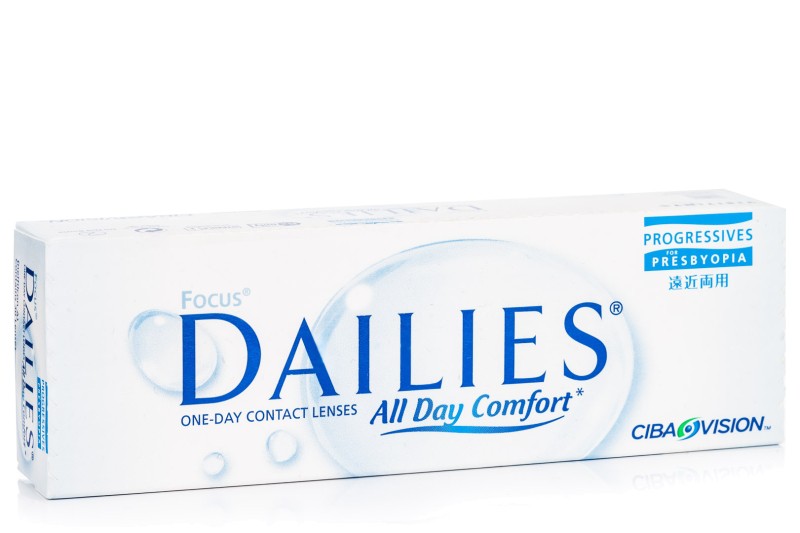 Boots Near & Far is also sold by name
Focus DAILIES Progressives (30 lenses).
A clear choice for optimal vision
We have unique advantages
Loyalty program
From your first purchase you get bonus points which can be exchanged for free gifts.
Free delivery for orders over €59
For orders of lower value you can use DHL Express delivery services from €3.90
365 day guarantee
Guaranteed replacement lenses if you change the prescription.
Details of Boots Near & Far
Presbyopia (the age-related loss of ability to focus up close) correcting Focus DAILIES Progressives (30 lenses) enable clear sight over short and long distances, and are slightly tinted for easy handling.
The production of Focus DAILIES Progressives lenses has been discontinued by the manufacturer. Some powers may not be available to be ordered or to be sourced from our suppliers. Therefore, we recommend you to switch to the latest type of DAILIES lenses – DAILIES AquaComfort Plus Mulfitocal. When switching to other lenses a new prescription must be re-issued by your eye specialist.
This is a medical device. Read instructions before use.
| | |
| --- | --- |
| Material: | Nelfilcon A |
| Easy handling tint: | Yes |
| Extended wear: | No |
| Water content: | 69 % |
| Oxygen transmissibility: | 26 Dk/t |
| UV filter: | No |
| Silicone Hydrogel: | No |
| Inside-out indicator: | No |
| Lenses in a box: | 30 |
| Power: | from -6.0 to +5.0 |
| Diameter: | 13.8 |
| Base curve: | 8.6 |
| Weight: | 74 g |
| Manufacturer: | Alcon |
Approved by our customers
From 3604 reviews 98% are positive