Last-Minute: Easy and Quick Halloween Makeup Ideas
Halloween! Only today can you really use all the colours in your colour palette to create an unmistakable, eerily beautiful makeup. The only question is: How can I quickly get a perfect Halloween makeup inspo? Lentiamo is here to help! Have a look at our last-minute Halloween ideas.
1. POP ART
Looking for something different but still easy to achieve? Turn yourself into a Lichtenstein painting in a few steps. For this artsy look you will need a flat brush, a black eyeliner, some light blue and white face paint and a red lipstick, but you will also find these colours in any Halloween makeup kit for kids.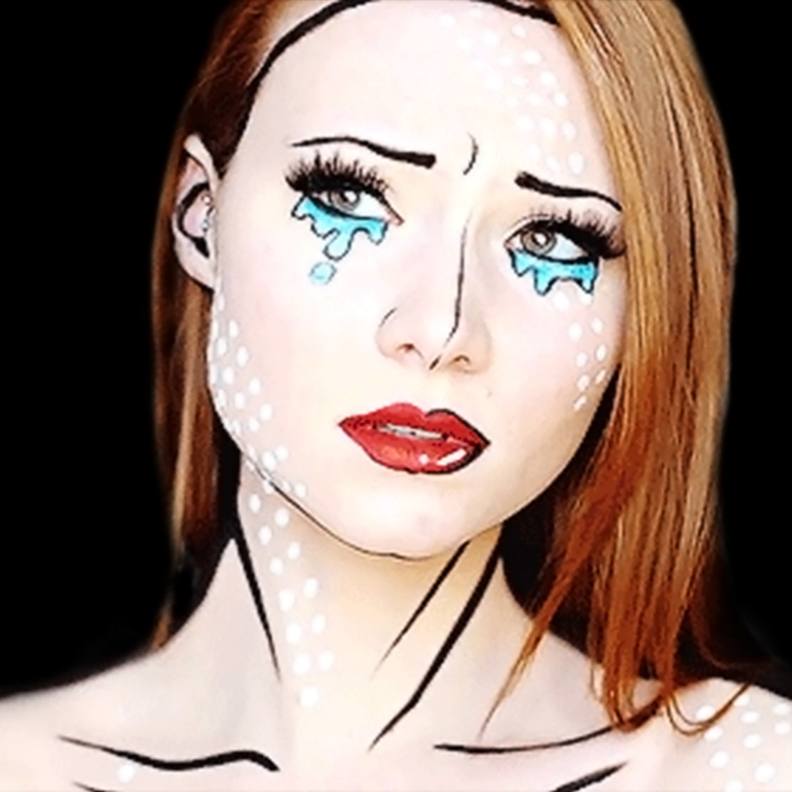 Things you'll need:
flat brush
black eyeliner
light blue
and white face paint, red lipstick
Step 1: Start tracing a black line around the edges of your face, then define your eyebrows giving them a more geometric appearance.

Step 2: Use the light blue to paint fake tears under your eyes for that "Roy Lichtenstein" look.

Step 3: With a black eyeliner, outline your tears, your nose and nostrils, your ears, your neck and – if you are going to wear a low-necked outfit – don't forget your collarbones.

Step 4: Paint your lips with bright red and, lastly, dot your face with white using this picture as a reference (or following your own imagination). Use the same white paint to refine your lips.

The best contact lenses for a cartoonish visage? Try Purple Hibiscus or Blackout!

2. SWEET DEER
For those of you who are not keen to wear a horror makeup, you might consider the "sweet deer".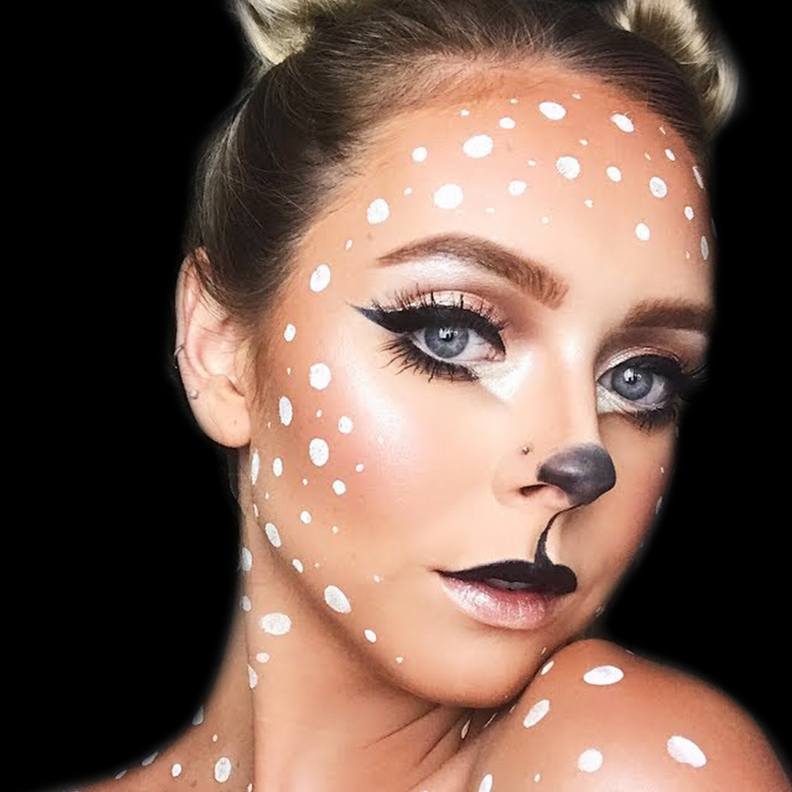 Things you'll need:
concealer
foundation
powder
bronzer
highlighter
mascara
black lipstick, eyeliner: black and white, dark brown eyeshadow
Step 1: Start by priming your face. Use concealer, foundation and loose powder to create the perfect base. Then use bronzer to emphasize your cheekbones and the corners of your forehead.

Step 2: Use a dark brown shadow and a small pencil brush to smudge the shade below your bottom lashes to enlarge your eyes. Then, use a black liquid liner to draw an exaggerated cat-eye flick from the inner corners of your eyes almost all the way to the tails of your brows. Finish with a shimmery highlighter along your browbone, in the inner corners of your eyes, on the bridge of the nose and on top of your cheeks. Boost your lashes with mascara.

Step 3: Use the same black eyeliner to create a black button shape over the very tip of your nose and draw a line connecting the base of your deer nose to your cupid's bow.

Step 4: Then, use the liner or a black lipstick to fill in your upper lip completely. Eventually, take white liner to add differently sized dots on the edges of your face.

Important: Add a pair of ColourVUE Big Eyes to complete the look.
3. NEYTIRI FROM AVATAR
Back to 2010: here is a makeup for all Neytiri fans from Avatar!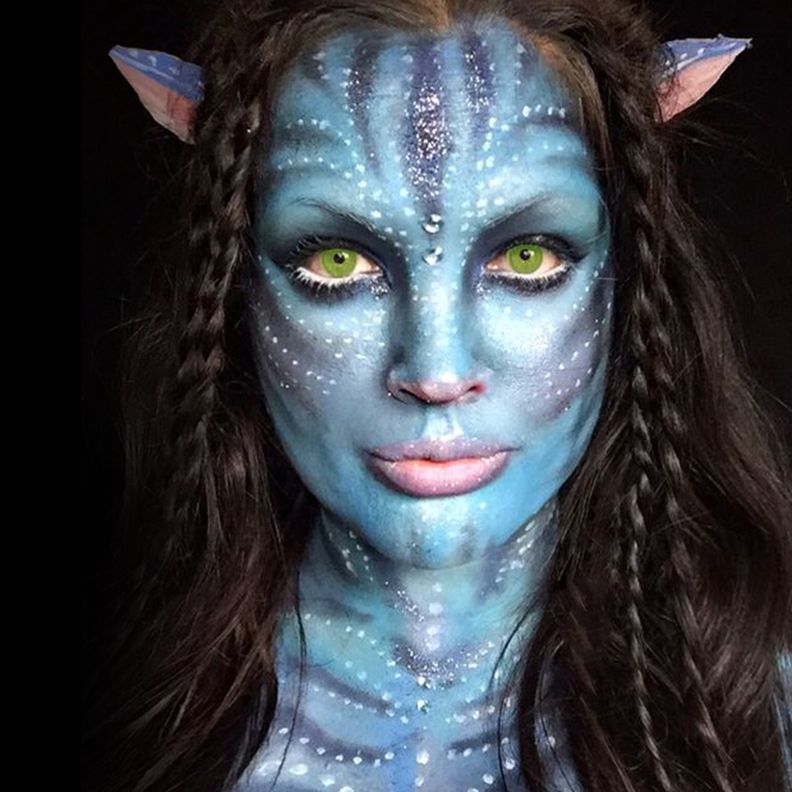 Things you'll need:
Little rubber bands
mascara
face paint: blue, white, black
eyeshadow: black, navy blue and pink

For the ears:
cardboard
hairpins
scissors
(again blue face paint and black eyeshadow)
Step 1: To begin with, make some braids all over your hair. Use the sponge and blue face paint to cover all your face, hairline, mouth and neck. Use white paint and a clean sponge to paint light spots on the nose, the highest part of the cheeks, chin and the space between the eyebrows. Then blend them a bit with your fingers.

Step 2: Use a brush and black eyeshadow to draw light lines from the eyebrows down the nose to make it look wider. Blend these lines to the sides. Use black and navy blue eyeshadow to draw lines on forehead, cheeks and neck. Use white eyeliner to line your waterline. Use a black eyeliner to draw thick lines on the upper lid, right above the eyelashes and on the lower eyelid right under the white line.

Step 3: Draw white dots between the lines you drew on the forehead, down the nose and on the highest part of the cheeks. Finish it off with mascara and add a pair of green coloured contact lenses to make your eyes stand out.

Step 4: For the ears, just cut two long rounded cardboard triangles, paint them with the same blue face paint, paint the inside with pink eyeshadow and mark them with the black one. Fold the base and stick a hairpin holding both sides. Have fun!
---
Which one of these three examples of makeup do you find more inspiring? Show us your creation! Just upload your picture on Instagram with the #lentiamo. We're looking forward to seeing your amazing transformations!
Source: pop art, deer, neytiri

Read more