Contact lenses and private labels - here is why you should know more about it

Have you ever heard of private label contact lenses?
If the answer is no and you are a contact lens user, you should probably read the article further.
We tell you why. When you buy contact lenses in shops on the shopping streets, you are often presented with a colourful box bearing the name of the optician's own brand or their partner/franchise brand.
This doesn't necessarily mean that they are the manufacturers. Private labels usually just sell well-known contact lenses under a different name. Those boxes contain very well-known contact lenses that you can easily find online under the original name given by the manufacturer.
Contact lenses – as medical products – are infact manufactured under the strictest quality standards and therefore require a high level of technology, safety and know-how.
At Lentiamo you will find a wide range of the most popular lenses in Europe, from all the major world-renowned manufacturers, such as CooperVision, Bausch & Lomb, Alcon, Cibavision and others.
How to find out the original name of your lenses
Step 1. Take your lens box
Everything you need to know is usually printed – in lower case – on the box and even on the blister. The first thing you want to check is the type and the geometry of the lenses.
Are your lenses disposable, biweekly or monthly?
Do you wear single vision lenses? Are they spherical or aspherical? Are your lenses toric or multifocal?
If you are in doubt, read our information on the differences between daily and monthly lenses and our simple guide to contact lens types.
With a box of the super popular original Biofinity lenses below we will show you where you can find all the useful details.
Step 2. Read your BC and DIA
Usually each model of contact lenses has its own combination of BC (base curve) and DIA (diameter). These two parameters describe, in brief and in simple terms, the "size" of your lens. This is also the reason why you shouldn't change the brand or model of your lens without first consulting your optician. If one of the parameters doesn't fit your cornea, there is a chance that the lens won't fit properly. It also explains why these two parameters are important for finding the original name of your lens.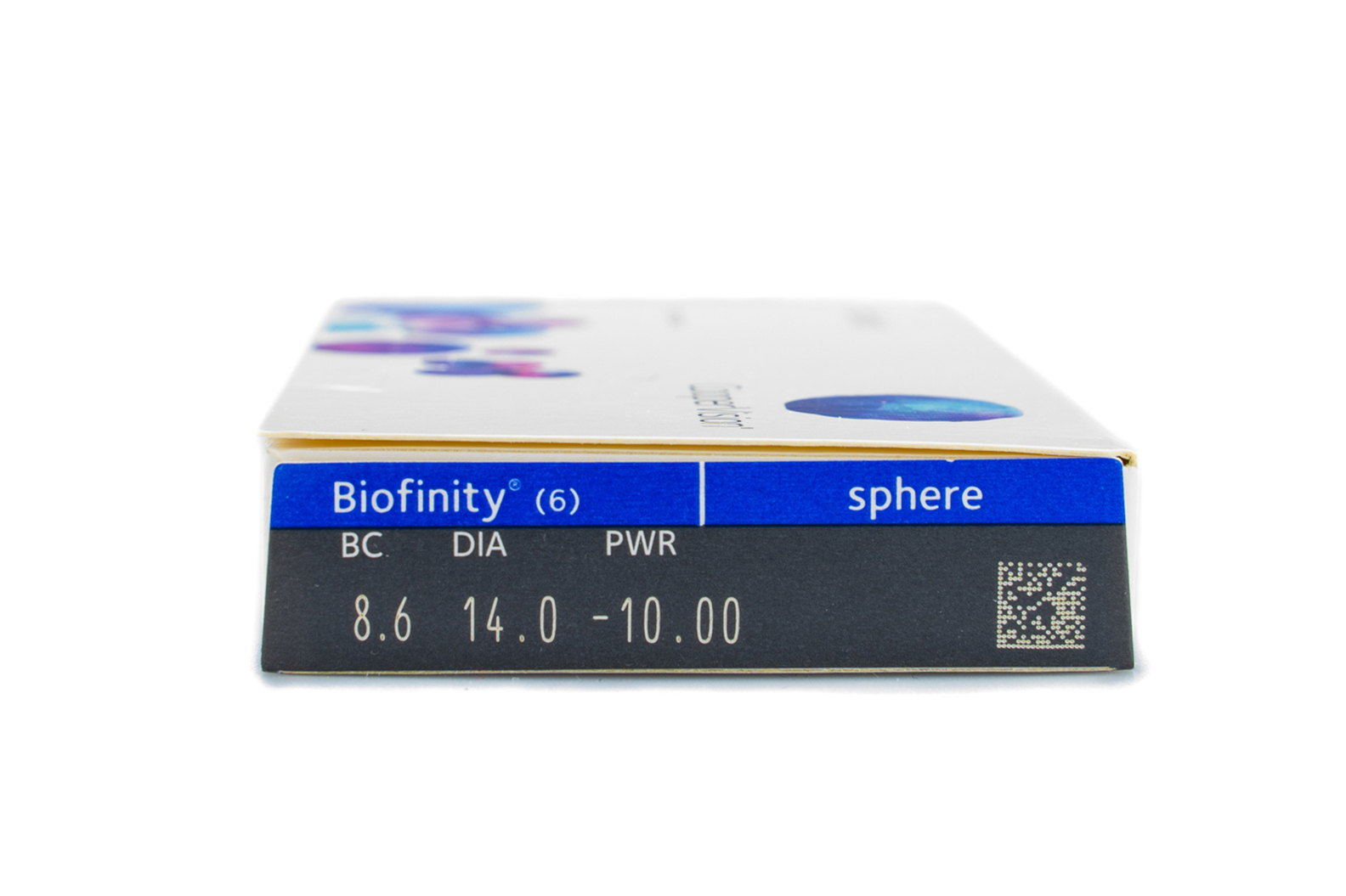 Step 3. Find out more about the material and the producer
The material is without doubt the most important element to be considered here. In fact, each material is almost always and almost exclusively patented and is used by a particular manufacturer to produce a particular family of lenses. You will usually find this information on one side of your box (usually on the back), along with the water content and other technical features.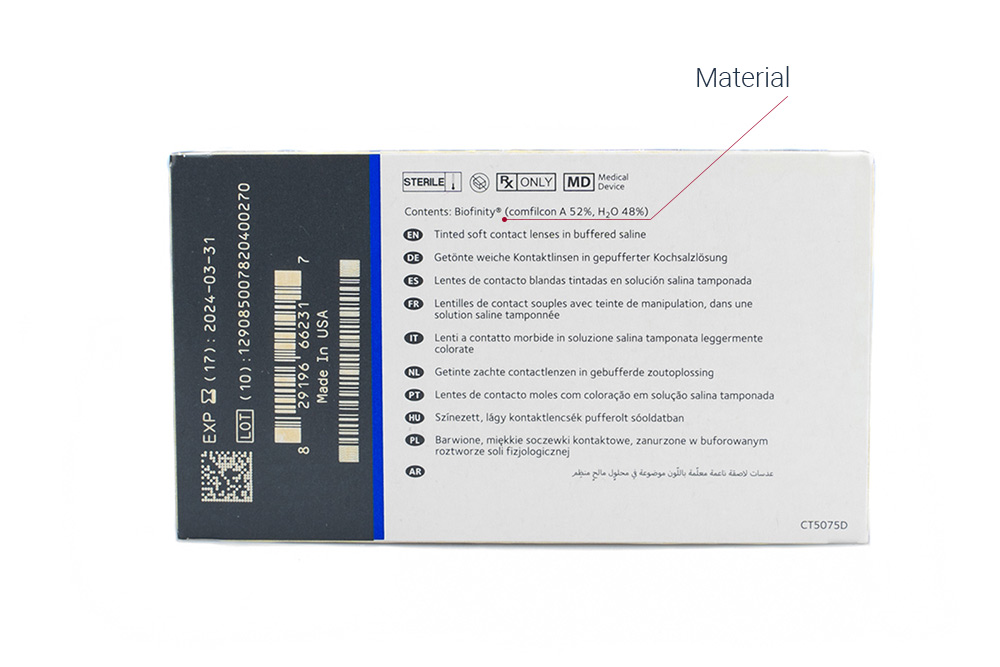 The material of the contact lens is normally written both on the box and on the blister lid. It is this funny, Latin-looking name that ends in -filcon. Here are some examples: Comfilcon A, Omafilcon A, Ocufilcon D, Hilafilcon B and so on.
This means that if you have already recycled your box, you can still find all the useful parameters on the blister!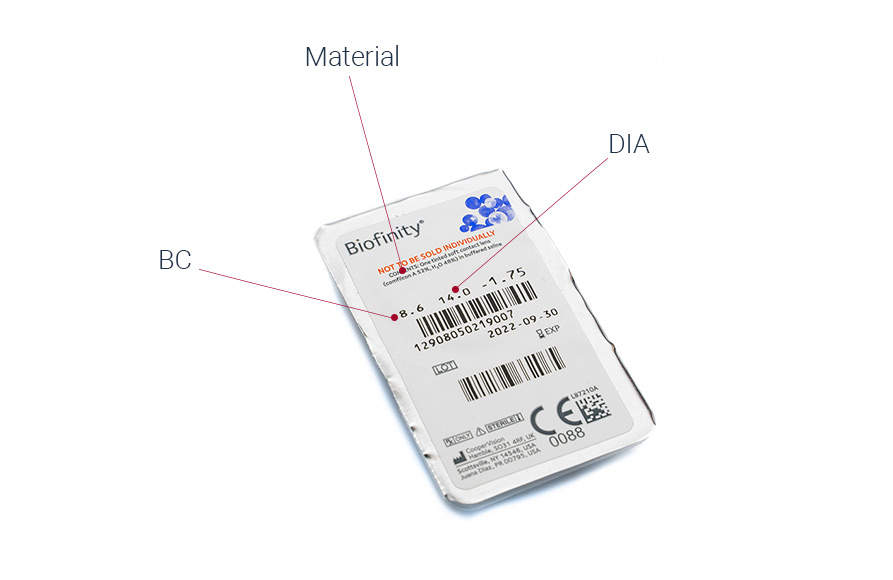 If the manufacturer's name is not given on the front of the box, it is usually printed on the back near the small factory symbol. As we have already explained, most lenses are made by the best manufacturers in the world in their high-tech facilities.
I can't find my lenses online. What should I do?
Contact us! All you need to do is call us at 180 081 414 or write to us at info@lentiamo.ie. Don't forget to tell us your parameters (or send us an image of your contact lens box) and our customer service will tell you if your lenses are available on Lentiamo under their original name.
Best selling products