7 biggest sunglasses trends in 2023

Table of contents
Sunglasses are one accessory that you should always keep on hand. Not only are they stylish, they help protect your eyes from the sun's harmful rays.
Oversized, colourful and whimsical are a few words we'd use to describe trendy sunglasses in 2023.
Want to know more about the latest styles for women and men? Follow along to discover what's popular - plus get style tips from Lentiamo's eyewear experts below!
How we chose the top sunglasses trends of 2023

Research - We reviewed designer trends, watched countless new films and series, searched social media, and turned to the streets to see what celebrities, influencers and everyday fashion lovers are wearing.
Best sellers - We examined our best sellers to see what sunglasses are gaining popularity so far this year.
Customer reviews - We also consulted reviews to see how customers rate some of our style editors' favourites.
1. Shield sunglasses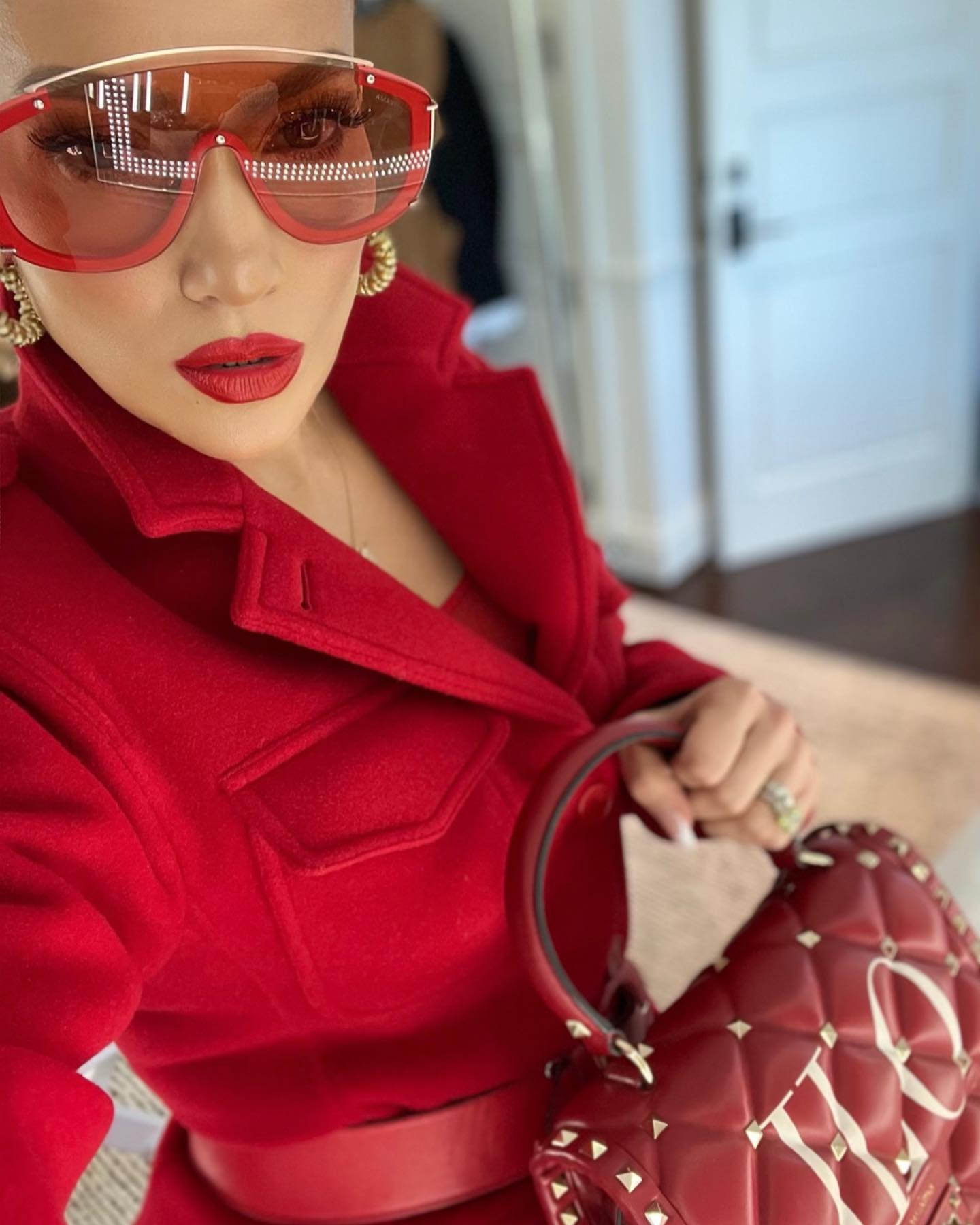 Image source: instagram.com/jlo
Whether we like it or not, we can't escape early 2000s fashion. We are pleased, however, that one accessory in particular has made a comeback: shield sunglasses. The 2023 upgrades see larger sizes and more clean lines than their predecessors.
Who better to bring Y2K into the current era than Jennifer Lopez? Shield shades fit seamlessly into J.Lo's vibrant maximalist wardrobe.
Style tips for shield sunglasses:

Shield sunglasses are a total statement accessory. They look great on everyone! The key to styling shield shades is to wear them with confidence. Try them with an oversized jacket, trousers or sweater to get the full look.
Our recommendations for shield sunglasses:
2. Sport sunglasses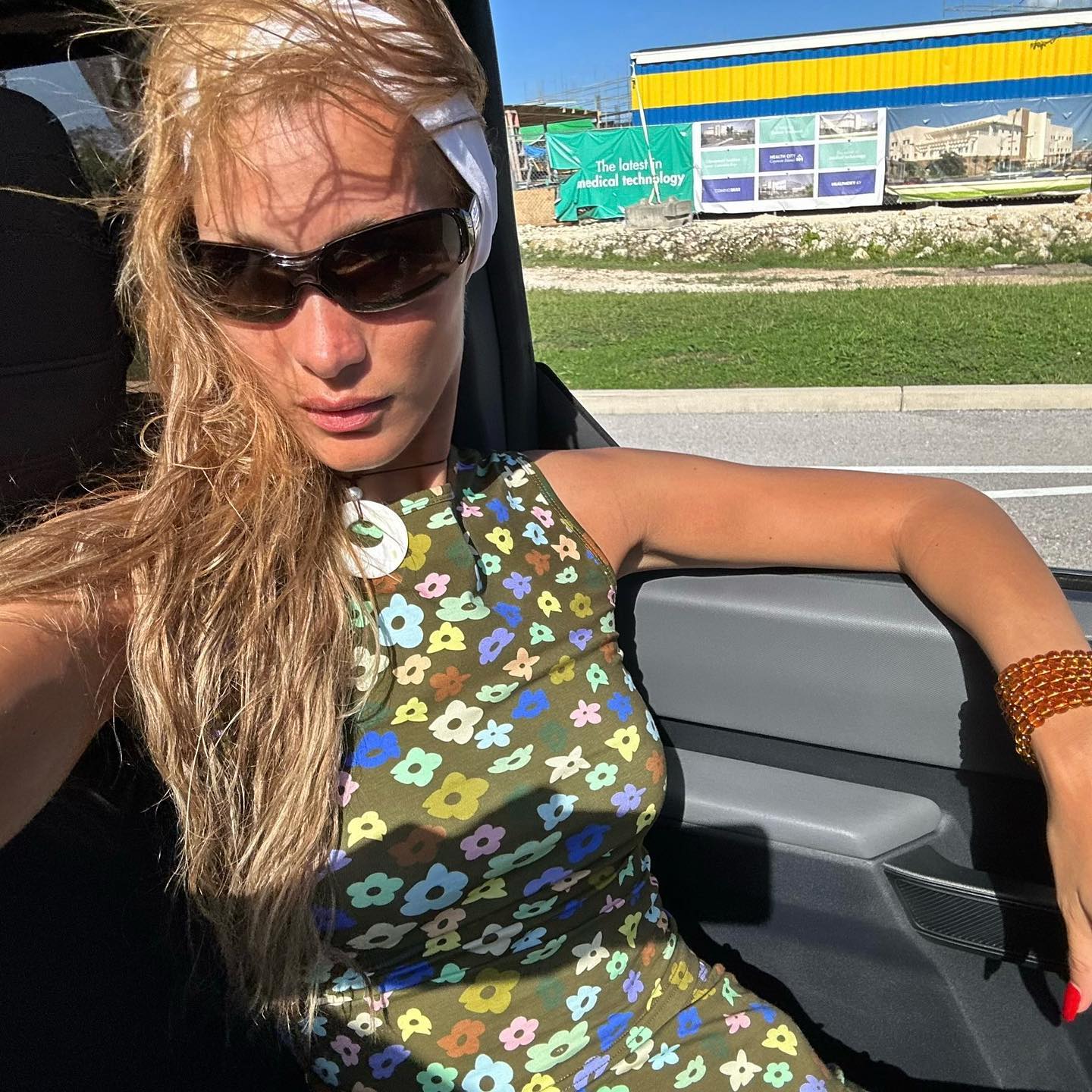 Image source: instagram.com/bellahadid
Sport sunglasses are here to stay. This sunglasses trend has gained popularity in the last several years and is now a wardrobe staple. The latest 2023 racer iterations feature the classic wrap-around style with simplified and trendier profiles.
Forget traditional sport sunglasses that you only wear cycling or running. Model Bella Hadid sports athletic-inspired shades with a floral leotard: the perfect outfit for a run to the shops or the gym.
Style tips for athletic sunglasses:

While sporty sunglasses go well with any "athleisure" attire, we think they look particularly good with structured pieces to contrast their rounded edges. Try a monochromatic outfit to make a colourful statement with these trendy sunglasses.
Our recommendations for sport sunglasses:
3. Retro tinted lenses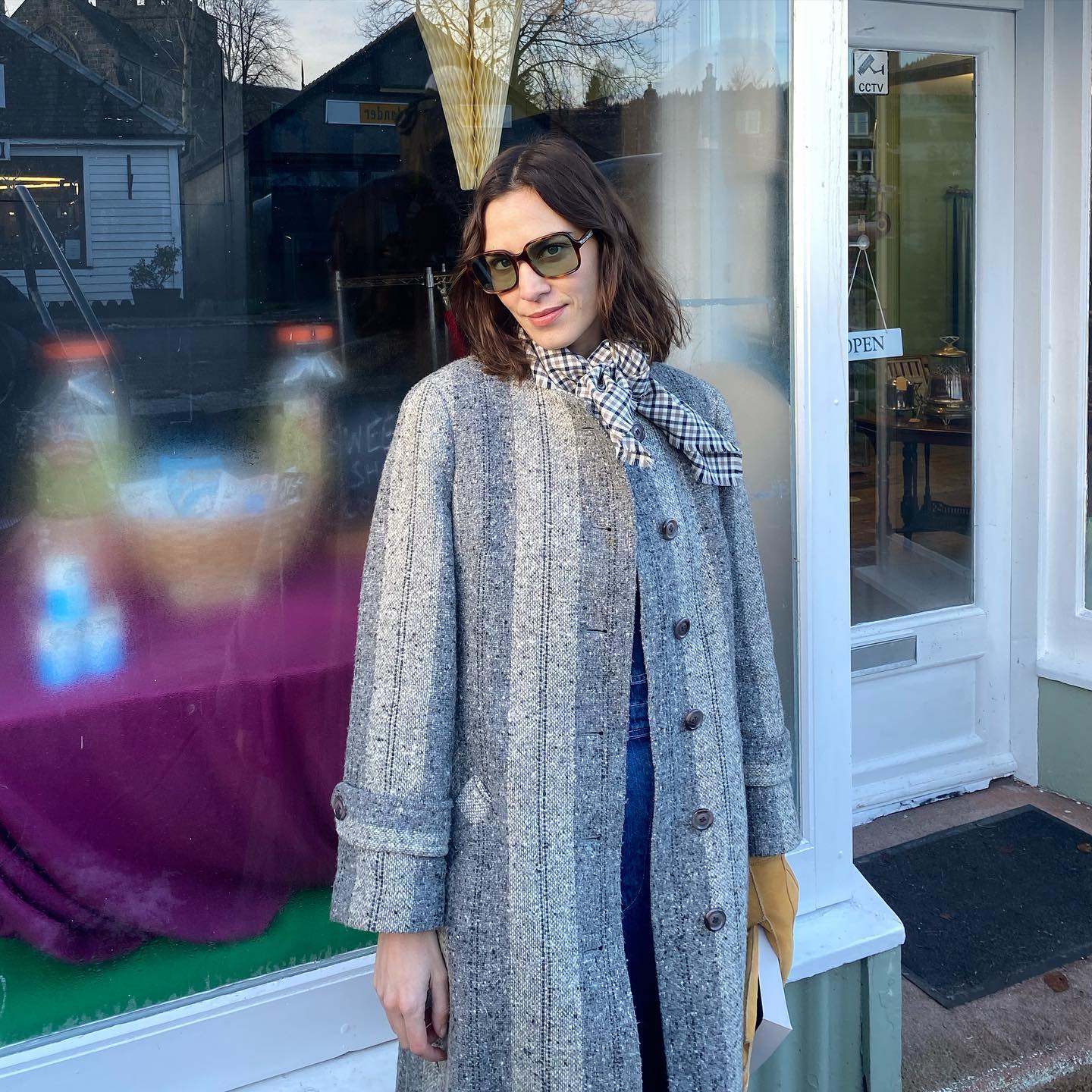 Image source: instagram.com/alexachung
We're all about the '70s vibes this year. This retro colour palette includes warm yellows, earthy browns and baby blues. Gradient tints are also trending in a range of silhouettes.
Tinted lenses offer a totally different look than darker lenses. Not only do they highlight your eyes, they draw attention to the entire face. This is a groovy sunglasses trend that has been spotted on British fashion personality Alexa Chung.
Style tips for retro tinted lenses:

Match tailored trousers to your tinted lenses for a complete look. Just remember: while you might be tempted to don a pair of true vintage sunnies, beware! Older lenses may not be equipped with quality UV filters. Know what UV protection levels to look for in your lenses.
Our recommendations for tinted lenses:
4. Classic black sunglasses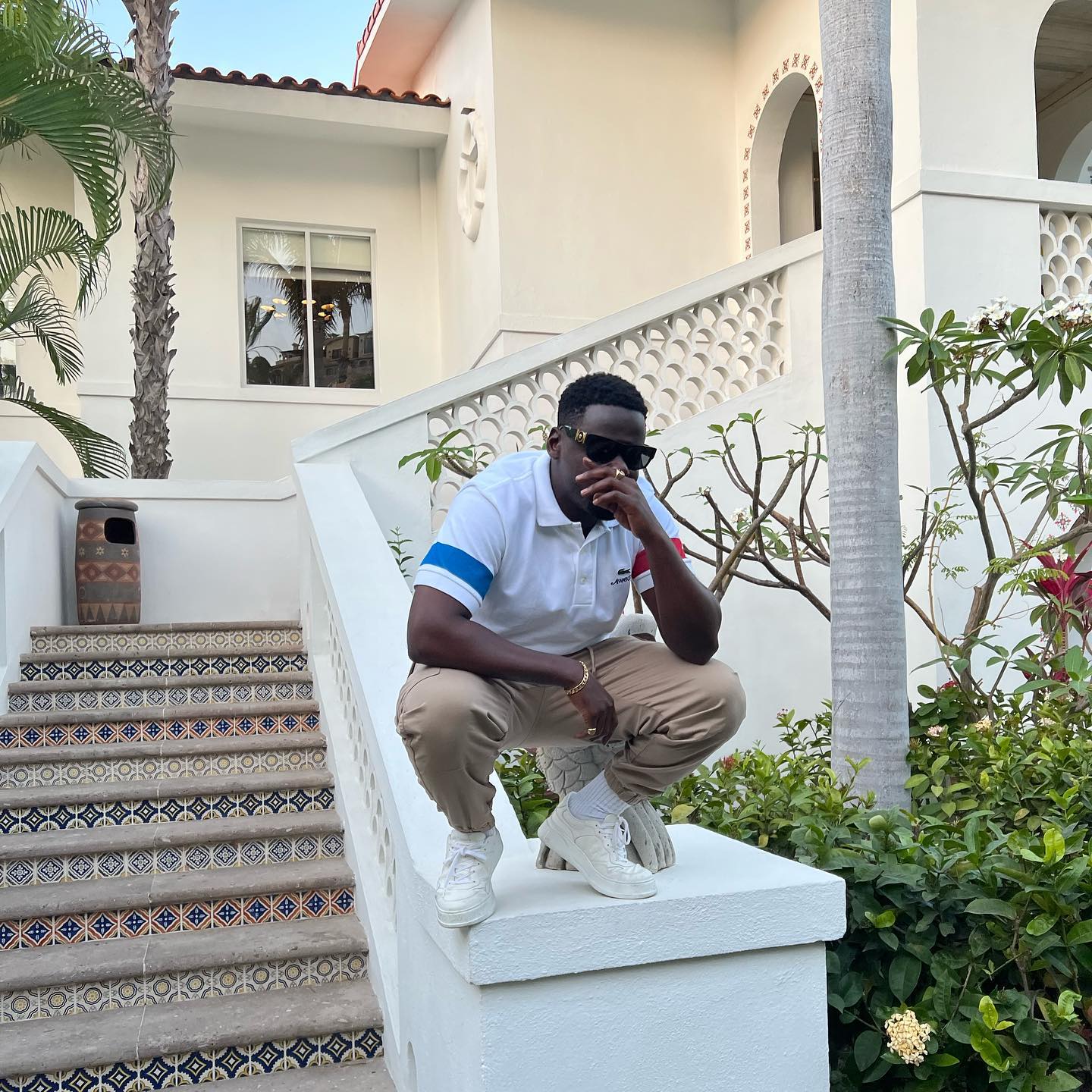 Image source: instagram.com/danielkaluuya
From the beach to the club, all black sunglasses are the ideal accessory for any activity. Classic black shades are versatile, eternally cool and never boring. We've seen everything from slim metal frames to dark oversized lenses.
Celebrated British actor Daniel Kaluuya, known for films including Black Panther, Get Out and Nope, is amongst those bringing it back to basics with sleek black sunnies.
Style tips for black sunglasses:

All black sunglasses go well with any outfit. Oversized black shades can be dressed down with a pair of sweatpants and trainers. Alternatively, wear them with any formal attire to add a dash of elegance.
Our recommendations for black shades:
5. Cat eye or harlequin frames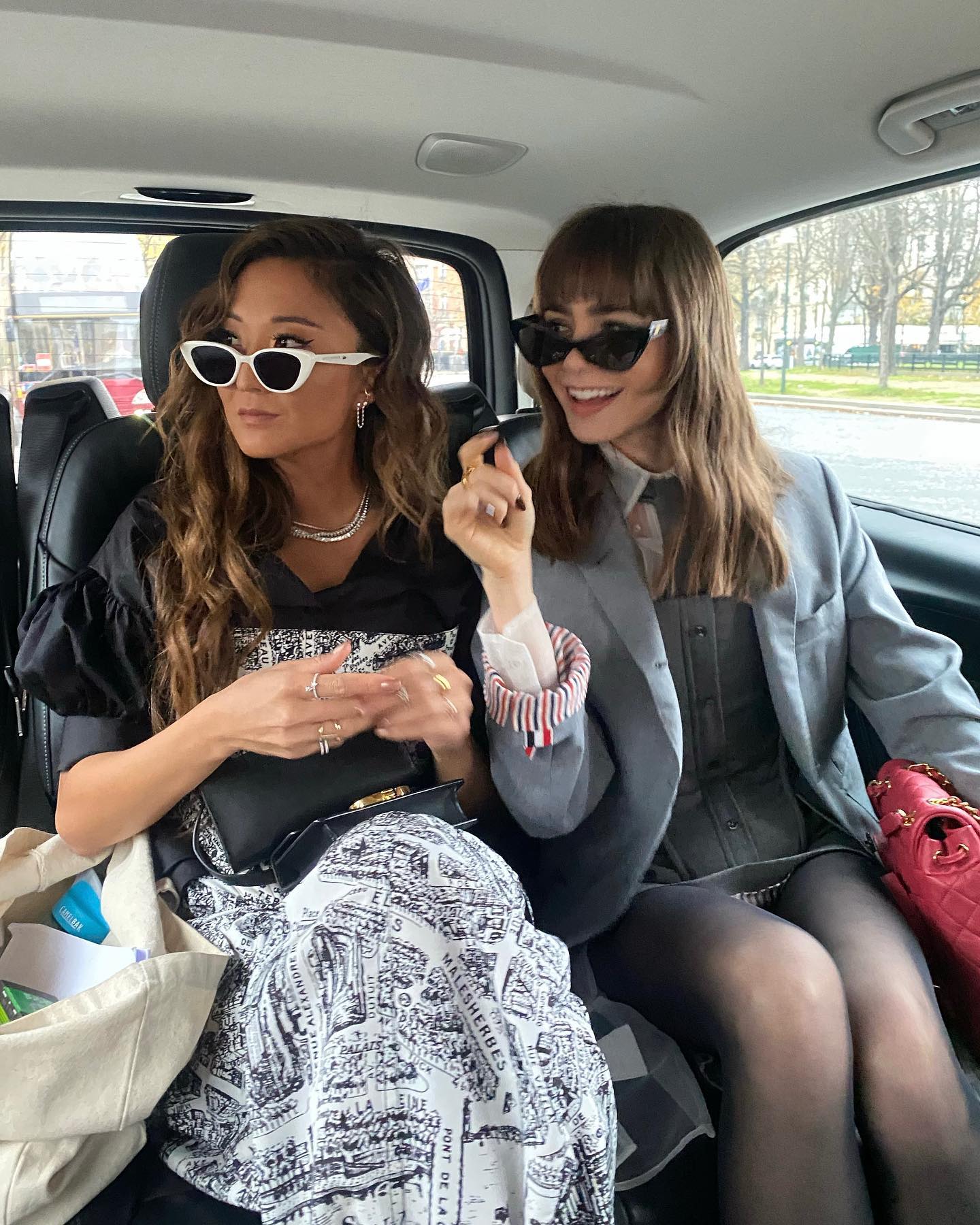 Image source: instagram.com/ashleyparklady
Which sunglasses are the most timeless? Look no further than the classic cat eye. Cat eye frames, originally known as harlequin frames, were inspired by the whimsical edges of traditional Harlequin masks. Aim for refined, sleek lines in 2023.
Look no further than Ashely Park and Lily Collins for trendy sunglasses. Emily in Paris sunglasses are trending with the release of the latest Netflix season. The actors in the show don't shy away from combining chic Parisian style with bold American trends.
Style tips for vintage-inspired cat eye sunglasses:

Cat eye sunglasses work well with many face shapes. Angular cat eye frames accentuate sharper facial features and highlight cheeckbones, while more rounded frames are suited to those with softer features.
Our recommendations for cat-eye and harlequin sunglasses:
6. Upgraded aviator shape
Image source: instagram.com/judebellingham
One sunglasses trend that doesn't seem to quit: aviator sunglasses. If you're ever in doubt about which sunglasses shape is trending, you can rely on this classic. You'll find traditional '80s-style wire frames with teardrop lenses plus newer, more unique modifications for 2023.
Borussia Dortmund and young England superstar Jude Bellingham combines sport and fashion in his everyday life. As seen on Bellingham, the classic aviator shape is upgraded for 2023 with chunkier materials and a square shape.
Style tips for aviator sunglasses:

Which aviator upgrade should you choose? Try an oversized acetate pair in a retro colour palette, another sunglasses trend this year! Top tip: Ray-Ban's iconic RB3025 aviator sunglasses worn by Tom Cruise in the 1986 classic Top Gun gained in popularity once again after the release of Top Gun: Maverick last year.
Our recommendations for aviator shades:
7. Eco-friendly sunglasses
Finally, one of our favourites (and Mother Nature's). Many companies are helping us consume more environmentally conscious products in 2023. Sustainable or eco-friendly sunglasses are an extremely popular and effective way to protect your eyes this year.
There are many sunglasses made from environmentally friendly and recyclable materials. More and more manufacturers are focussing on using processes and materials that reduce CO2 emissions. These green shades are one sunglasses trend that will always be in style!
Style tips for sustainable sunglasses:

Eco-friendly sunglasses have come a long way in the last several years. You don't have to settle for one or two average picks. As sustainable options become more and more popular, you can find any style you're looking for. Trendy sunglasses don't have to be bad for the environment!
Our recommendations for eco-friendly sunglasses:
Closing thoughts from Lentiamo
The latest sunglasses trends in 2023 are meant for everyone! There are trendy sunglasses for all ages, genders, styles and personalities.
Whether you like a bold look or a classic frame with a twist, there's something for you.
Best selling products