Hydrogel vs silicone hydrogel contact lenses: pros and cons

Every contact lens wearer – especially those who are affected by dry eye syndrome, or digital eye strain – at some point asks at least one of the following questions:
What's the best material for contact lenses?
How important is water content in contact lenses?
Should I choose hydrogel or silicone hydrogel lenses?
Which material is best for my sensitive eyes?
As we receive your enquiries on this topic on a daily basis, we decided to address them in this article. Let us know in the comments if you find it helpful!
What type of soft contact lenses are there?
Nowadays most contact lenses are either made of hydrogel or silicone hydrogel.
Both materials have their pros and cons. Let's explore the differences between hydrogel contact lenses and silicone-hydrogel lenses.
Hydrogel contact lenses
Hydrogel lenses are made from gel-like, water-containing plastics called hydrogels. These lenses are very thin and pliable and conform to the surface of the eye.
Introduced in the early 1970s, hydrogel lenses made contact lenses much more popular, thanks to improved comfort and ease of use.
When it comes to dry, delicate eyes, hydrogel material – thanks to its unique biocompatibility with the human eye – is quite often the most suitable choice.
A recent study comparing hydrogel lenses to silicone hydrogel lenses 1 found, in some subjects, a connection between the presence of silicone and a rise in eye allergies.
The problem with hydrogel lenses appears when the water gradually evaporates (e.g. after many hours of wearing, or when in challenging environments), making the material less comfortable.
Pros
Great comfort and durability
Highly biocompatible with the human eye
Suitable for delicate eyes
Cons
Lower oxygen permeability
Less comfortable after many hours of wearing
Less elastic than silicone hydrogel
Silicone hydrogel contact lenses
Silicone hydrogel lenses are an advanced type of soft contact. They are more porous than regular hydrogel lenses and allow even more oxygen to reach the cornea. Introduced in 2002, their combination of hydrogel and silicone allows the manufacturer to increase the oxygen permeability, even with a low volume of water. This higher oxygen transmissibility reduces the risk of eye hypoxia2. This feature makes them a great choice for extended wear. The disadvantage of these lenses, however, is the lower level of wettability and tendency to collect more deposits.
Pros
High oxygen permeability
Reduce hypoxia-related symptoms
Allow extended wear
Cons
Less comfortable on delicate eyes
Collect more deposits
Not suitable for people with silicone intolerance
Looking for the right contact lenses for you?
A wide selection of cutting-edge lenses awaits you at Lentiamo!
Top manufacturers offer you daily and monthly lenses made of silicone hydrogel, extended-wear lenses and UV and blue light filters.
In conclusion, what's the best material for contact lenses?
As we like to stress to our customers, there is no such thing as "the best contact lens material on the market". It's a matter of finding the best option for your own eyes.
To summarise the difference between hydrogel and silicone hydrogel:
Neither material types showed superiority in comfort and adverse event rates were low with both material types. These findings suggest that the choice of material depends entirely on the agreement between practitioner and patient3.
As always, the first rule is to discuss this with your optician. Not only does each type of contact lens have different features, but every eye is different with specific needs. One of the most important considerations when choosing quality contact lenses is the water content. Water moisturises the lenses, making them softer and more comfortable to wear.
Water content in contact lenses
When it comes to water content, contact lenses can be divided into three groups, each with different qualities. Do you know which group your contacts belong to?
Low water content (up to 45%) – silicone hydrogel contact lenses, usually intended for continuous wear. They have almost 100% oxygen permeability.
Mid water content (up to 60%) – hydrogel contact lenses, suitable for most users.
High water content (up to 90%) – hydrogel contact lenses for more sensitive eyes.
Water content and oxygen transmissibility (Dk/t)
The oxygen permeability level of your lenses depends directly on their water content.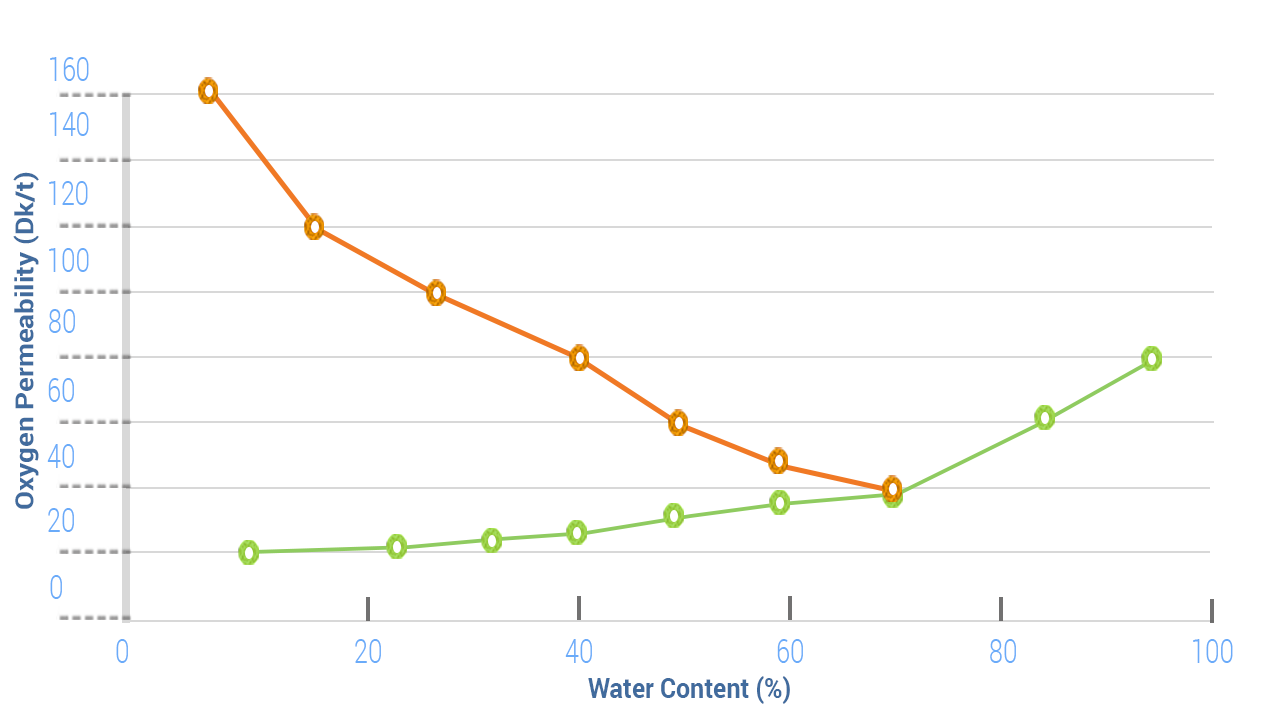 The higher the water content, the more difficult it is for oxygen to get to the cornea where the surface is dependent on atmospheric oxygen. And it works the other way around: the more the material is permeable to oxygen, the less water can bind to it.
So, if your contacts are moist, they will be more comfortable and easy to apply. Remember, however, that water gradually evaporates from them during the day. If this occurs, your eyes could become dry.
Discomfort may occur, and your eye may feel itchy and have a burning sensation. This is why a lot of contact lens users think that more water is better for their eyes.
As a matter of fact, though, moisture is not the only thing our eyes need to stay healthy. They need to breathe.This is why it's always important to use the help of an ophthalmologist, when choosing the right contacts. Wettability and breathability are both equally important. It's a matter of balance.
If what's written above sounds too theoretical, have a look at the next chart.
Chart of Contact Lenses According to their Water Content and Oxygen transmissibility (Dk/t)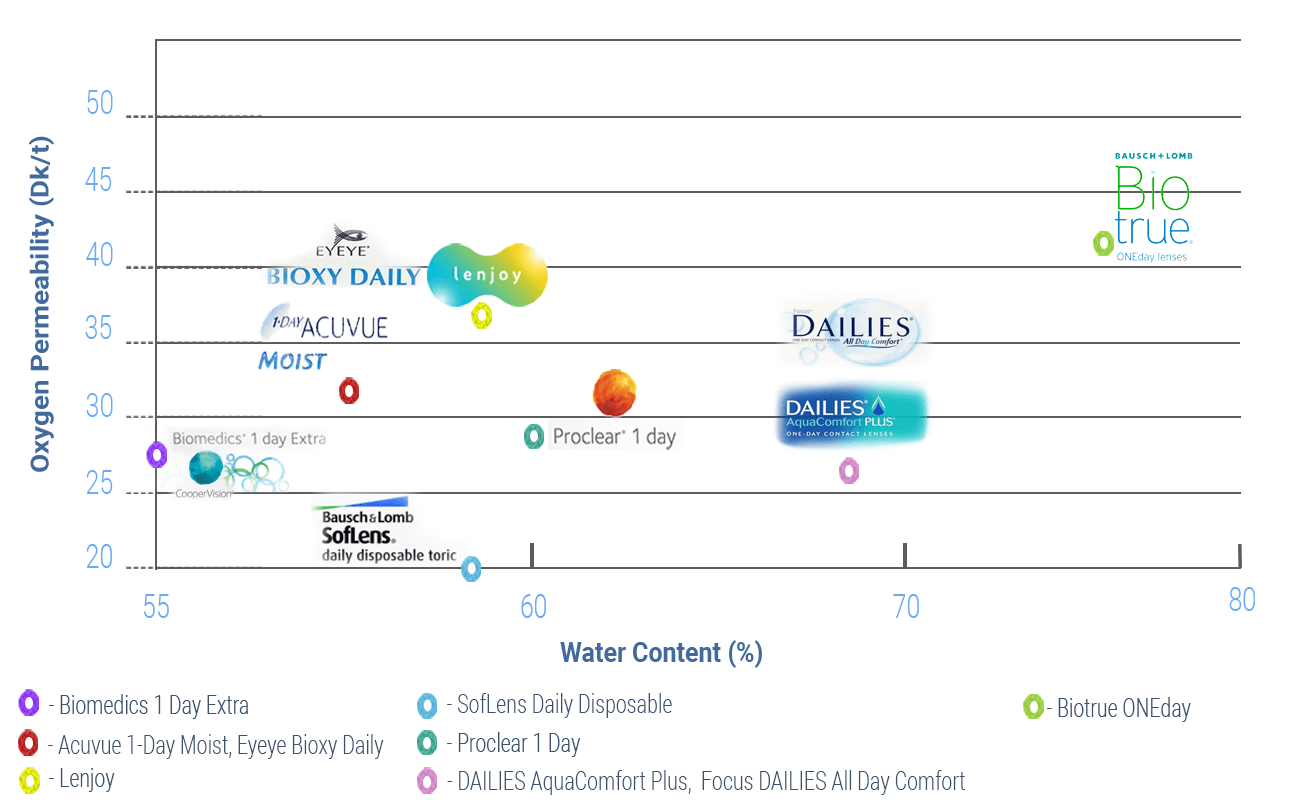 Here you can see some of the most popular contact lenses on the market and their wettability/transmissibility ratios. Our graph allows you to easily compare their features. From theory to practice!
Best-selling hydrogel contact lenses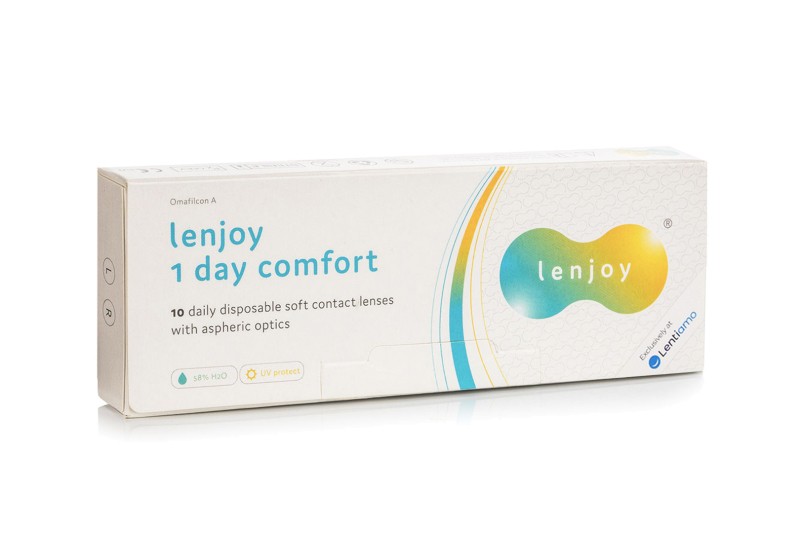 Lenjoy 1 Day Comfort (30 lenses)
Lenjoy 1 day Comfort contact lenses offer amazing visual performance, long-lasting wearing comfort and optimal eye health thanks to their aspheric design. The main features of these lenses include their biologically compatible hydrating technology, non-slip surface, UV radiation protection and light-blue tint for easier handling. They are made with Omafilcon, one of the most suitable materials for dry eye syndrome, according to doctors.
Lenjoy 1 Day Comfort
Best-selling silicone hydrogel lenses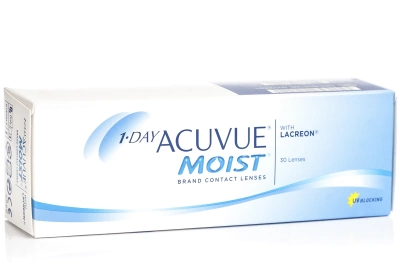 1-DAY Acuvue Moist
1-Day Acuvue TruEye are daily disposable contact lenses that provide amazing comfort and freshness all day long, thanks to their Hydraclear technology.
1-DAY Acuvue Moist lenses
Did you find this topic interesting? Leave us a comment below or share it!
---
Sources:
Best selling products