The best contact lenses in Ireland in 2023

Table of contents
Contact lenses are a practical and versatile visual aid. They range from daily disposable lenses that are perfect for sports or occasional use, to more sophisticated monthly silicone hydrogel lenses favoured by those who spend many hours at the computer. This small medical device is able to correct common visual disorders, such as nearsightedness, farsightedness, astigmatism, and presbyopia.
Which contact lenses are the best? Daily, monthly, colourful? How do you choose the most suitable lenses? With the help of our professional opticians and thousands of reviews from our loyal customers, we've prepared this practical guide for you to discover the best contact lenses in Ireland and their features.
How we picked the best contact lenses

Research: Our optometrists and opticians offered their experience and knowledge based on the latest medical findings.
Customer reviews: We took into account the popularity of contact lens models and the opinions of our customers.
Price: We also considered the price to quality ratio of the contact lenses.
What are the best contact lenses?
1. DAILIES AquaComfort Plus (daily lenses)
DAILIES AquaComfort Plus are modern hydrogel daily lenses from Alcon, contact lens specialists. They're intended for the correction of nearsightedness and farsightedness. DAILIES AquaComfort Plus lenses offer all-day freshness, comfort, and clear vision. Comfort while wearing these lenses is guaranteed by three factors:
The excellent moisture management of Aqua Daily Comfort Plus minimises friction and dryness in the eyes. This increases the wearing comfort.
The unique hydration technology makes blinking easier.
Moisturisation is delivered to the eye with every blink. This keeps the eyes hydrated and fresh throughout the day.
Suitable for:
Comfortable all-day wear with the help of Hydraclear Plus technology.
Sharpness of vision and freshness of the eyes at the same time thanks to high oxygen permeability.
Class 1 UV filter to protect from UV-A and UV-B radiation.
---
2. Acuvue Oasys (bi-weekly lenses)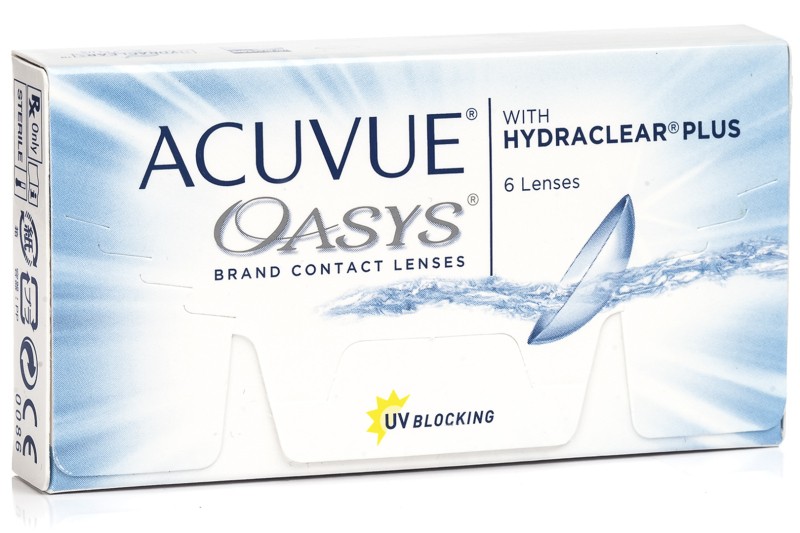 Acuvue Oasys lenses take second place because of their popularity in Europe. Acuvue Oasys correct myopia and hyperopia. They belong to the new generation of lenses, the advantages of which include:
Comfortable all-day wear with the help of Hydraclear Plus technology.
Sharpness of vision and freshness of the eyes at the same time, thanks to high oxygen permeability.
Class 1 UV filter preventing the penetration of UV-A and UV-B radiation.
Suitable for:
Wearers who suffer from myopia/hyperopia and are looking for comfortable lenses.
People who spend time in air-conditioned environments or in front of digital screens.
People who have sensitive eyes.
---
3. Biofinity (monthly lenses)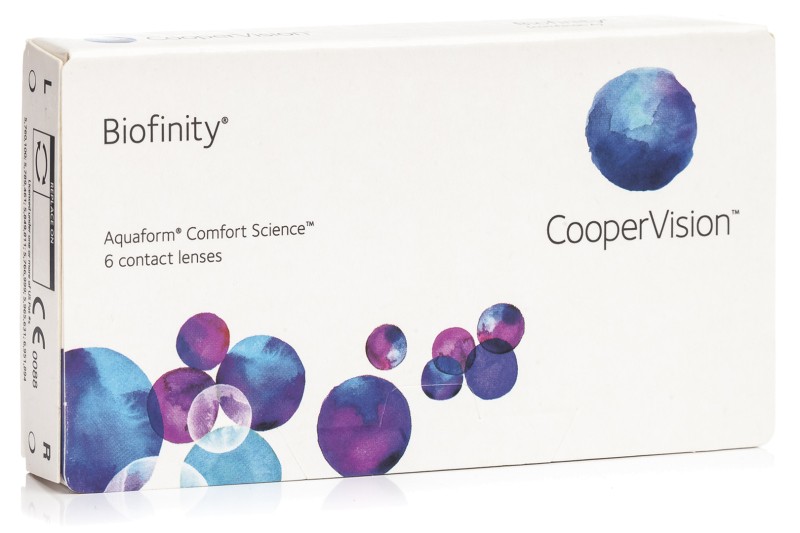 Biofinity lenses are modern silicone-hydrogel monthly lenses from the manufacturer Coopervision. They're designed to correct nearsightedness and farsightedness. As one of the best contact lenses, they feature an extraordinary combination of high water content and above-average oxygen permeability and can be worn continuously. Their biggest advantages are:
Along with high oxygen permeability, they also offer an increased level of moisture thanks to Aquaform technology, which brings comfort when worn.
Among the best tolerated lenses on the market, high oxygen permeability supports eye health.
Biofinity lenses have been one of the most popular lenses in our e-shop for some time now.
Suitable for:
Regular lens wearers who suffer from nearsightedness or farsightedness.
Those who prefer a monthly wearing period.
People who have suffered from dry eyes in the past.
---
4. Acuvue Oasys for Astigmatism (bi-weekly toric lenses)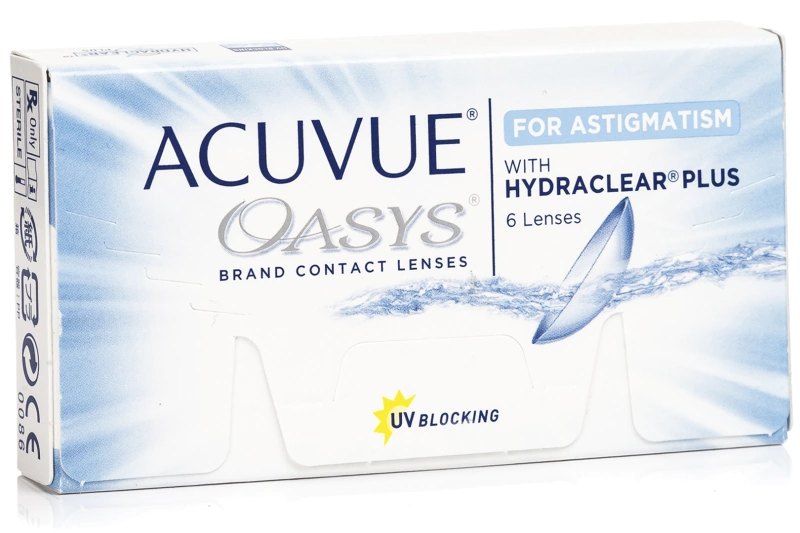 Acuvue Oasys toric lenses for Astigmatism have all the benefits of Acuvue Oasys, plus they're designed to correct astigmatism and allow clear vision in all situations. What are the other benefits of Acuvue Oasys for Astigmatism?
They were developed specifically to correct curvature of the cornea and use a special stabilisation design.
High oxygen permeability combined with long-lasting moisture offer great comfort all day long.
The lenses contain a UV filter blocking UV-A and UV-B rays.
Suitable for:
Wearers suffering from astigmatism
Lens wearers with sensitive eyes
Those seeking comfortable lenses.
---
5. Dailies Total 1 (daily lenses)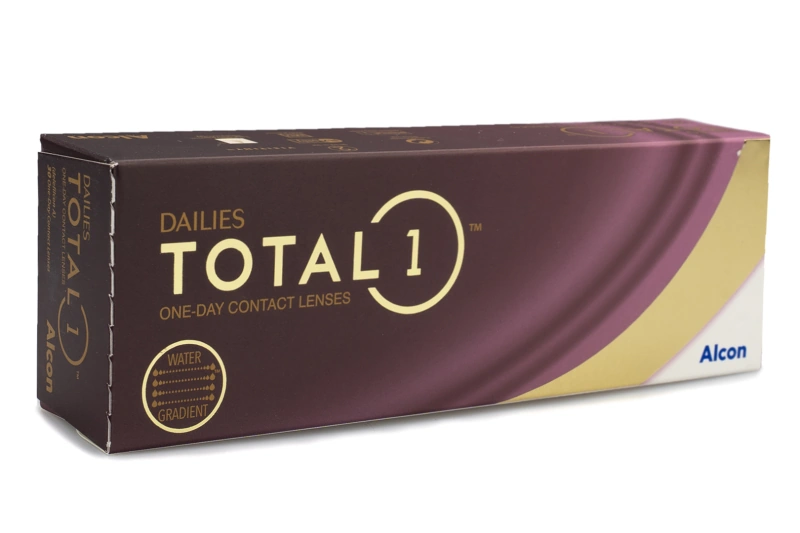 Dailies Total 1 are one of the best-selling contact lenses in the world. These one-day contact lenses made of silicone-hydrogel material are also innovative in several ways:
The outermost layer, which is closest to the eye, contains more water (over 80%). This allows for a high level of hydration.
They guarantee a velvety soft feeling that is pleasant throughout the day.
They have very thin edges and are made of a non-ionic material that prevents deposits from being deposited on the lenses.
Suitable for:
Those who suffer from myopia or hyperopia and prefer daily lenses.
People who wear lenses only occasionally.
Lens wearers with sensitive or dry eyes.
---
6. Lenjoy 1 Day Comfort (daily lenses)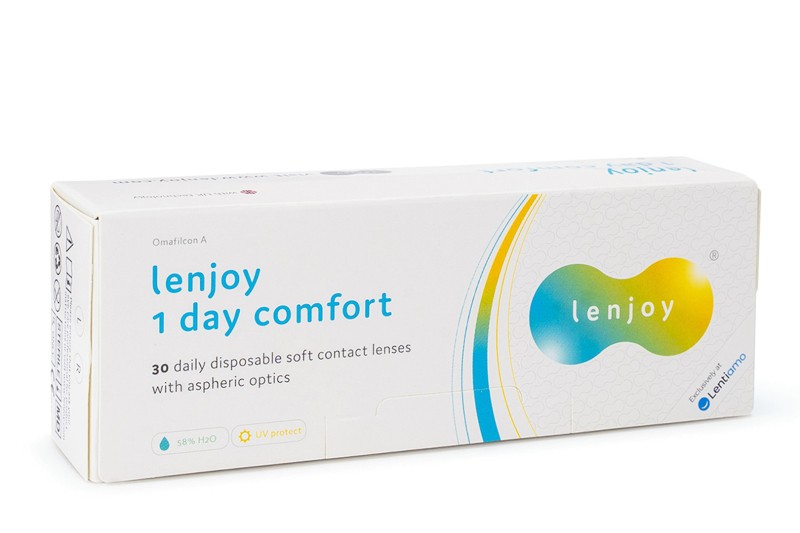 Lenjoy 1 Day Comfort are daily contact lenses made with unique technology in Great Britain. Thanks to their high quality, Lenjoy 1 Day Comfort offer:
Long-lasting wearing comfort, optimal vision correction, and a pleasantly refreshing feeling in the eyes.
Biologically compatible hydration technology, anti-slip component, and UV protection
The unique aspherical design reduces spherical aberration, thus improving sharpness of vision even in low-light conditions, such as when driving a vehicle at night, working on a computer, or playing sports.
Suitable for:
People looking for lenses that offer superior performance and long-term comfort.
Lens wearers who require sharp vision even in poor lighting conditions.
Those who suffer from myopia or hyperopia and prefer one-day lenses.
---
7. Lenjoy Monthly Day & Night (extended wear lenses)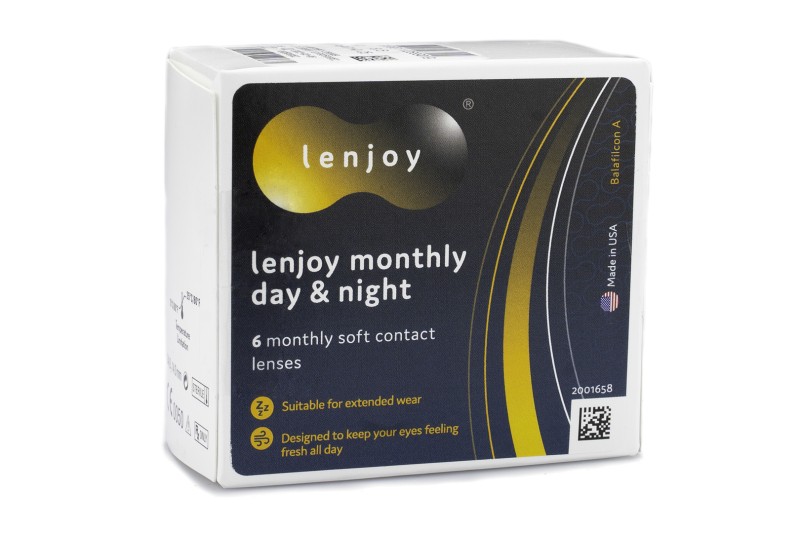 Lenjoy Monthly Day & Night are monthly contact lenses intended for day and night wear. They're made in the USA using the latest technology and have the following advantages:
Lenjoy Monthly Day & Night material is currently the healthiest contact lens material available. This is because it contains silicone hydrogel.
Lenjoy Monthly Day & Night is one of the thinnest contact lenses available on the market, allowing sharp and clear vision even in low light conditions.
High oxygen permeability allows continuous wear for up to 30 days and 29 nights. However, always consult your doctor or optician about the possibility of continuous wearing.
Suitable for:
Lens wearers that need correction for myopia or hyperopia who prefer continuous wear for up to one month.
Those who want lenses with maximum comfort and good visibility.
Users who prefer lenses with easy handling.
How to choose contact lenses
Key factors for choosing contact lenses include taking any eye defects, lifestyle, or eye sensitivities into consideration. The type and replacement period depend on these factors, as well as choosing a suitable material and parameters such as water content and oxygen permeability.
Contact lenses can be divided according to:
Wearing periods: daily, bi-weekly, monthly, quarterly, continuous, and annual.
Refractive errors: myopia/hyperopia, presbyopia, astigmatism.
Material: the most common soft lenses are hydrogel vs. silicone hydrogel.
A separate category is coloured contact lenses, which are used to change or highlight the natural colour of the eyes. They're generally available in dioptric and non-dioptric versions.
If you'd like to start wearing contact lenses, are thinking about changing lenses, or would like to sleep in contact lenses, it's always necessary to visit an eye specialist who will recommend a suitable correction based on an eye examination. Some manufacturers offer trial lenses in smaller packages.
Looking for the right contact lenses??
A wide selection of high-end lenses awaits you at Lentiamo!
Leading manufacturers offer you daily and monthly silicone-hydrogel contact lenses, continuous lenses, as well as coloured contacts for every occasion.
Discover the most popular contact lenses by type
Check out other best contact lens ratings:
Best selling products