Order trial contact lenses online on Lentiamo

What are trial contact lenses?
Trial contact lenses are a perfect opportunity to try out new contact lenses.
Before you buy a large pack of contacts, it's a good idea to test them at home to see if they're right for your eyes and needs. That's why we recommend buying a trial package online for little money.
This can be very practical and helpful for various reasons.
4 reasons why you should order trial contact lenses
You would like to change to another lens brand, but first you want to try if the new lenses are suitable
You usually wear glasses, but sometimes you want to wear daily contact lenses
You want to test a new power
When doing sports or on holiday you prefer to wear daily lenses rather than glasses or monthly lenses
What are the benefits of trial contact lenses?
You can save a lot of money with trial lenses. By buying your preferred lenses in an inexpensive trial pack first, you can make sure that they will satisfy you. Afterwards, you can order the large pack.
At Lentiamo we offer you a trial package of the high-quality Lenjoy 1 Day Comfort daily disposable lenses. Receive a 10-day contact lens package for only only £4.69 to test Lenjoy for yourself!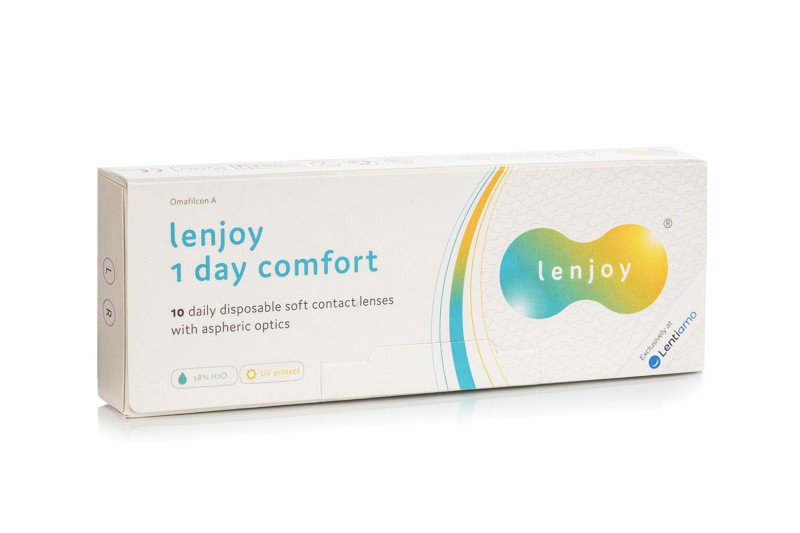 Lenjoy 1 Day Comfort contact lenses offer amazing visual performance,
long-lasting comfort and optimal eye health thanks to their aspheric design.
Get 10 Lenjoy trial lenses
Learn about the qualities of Lenjoy daily disposable lenses
Lenjoy daily disposable contact lenses are more affordable than many other daily lenses.
But their good price means no loss of quality. On the contrary. Lenjoy 1 Day Comfort are daily disposable contact lenses, which feature the most modern technology with research and development from the United Kingdom. Their biocompatible humidifying technology, non-slip surface, UV protection and light blue tint for easy handling are the main features of these popular contacts. They're made from Omafilcon, currently one of the most suitable materials against dry eye syndrome according to doctors.
Our advice for Lenjoy trial lens wearers
We advise you to check the lens parameters before use to make sure that the lenses are suitable. Let our customer service team advise you. If you wear any of the following brands of contact lenses, Lenjoy 1 Day Comfort contact lenses are an excellent alternative:
Biomedics 1 Day Extra,
Biotrue ONEday,
1-DAY Acuvue Moist,
Proclear 1 day,
SofLens Daily Disposable,
Eyeye Bioxy Daily,
Clear 1-day,
1-DAY Acuvue TruEye.
92% of Lenjoy wearers are satisfied and recommend switching!

Questions or remarks? Please contact our customer service via info@lentiamo.ie. We are happy to help you!