Daltonism

This medical content was written by the opthamologist Dr Maya Mineva and reviewed by our internal optometrists on October 27th 2019.


The normal human eye distinguishes three primary colours – red, green and violet, and about 300 others as a result of their blending. This condition is called Trichromacy.
However, our colour vision can be disturbed, which can ultimately be a form of colour blindness. In this glossary, Lentiamo concentrates on a particular form of colour blindness – Daltonism. We sought the advice of a true expert: The ophthalmologist Dr Maya Mineva, who told us what Daltonism is, how it is caused and what the symptoms are.


What is Daltonism?
The term "Daltonism" is derived from the name of the English physicist and chemist John Dalton, who suffered from deuteranopia (inability to distinguish between colours in the green–yellow–red section of the spectrum). He described his condition in detail.
The morphological substrate of the colour vision are the cones (highly differentiated cells, called photoreceptors) in the macula. Disturbances in the colour perception can be congenital and acquired. The congenital disturbances are called monochromasia, anomalous trichromacy and dichromacy. These are the commonly observed forms:

The three forms of Daltonism
Monochromasia means complete colour-blindness. The vision of people with monochromasia is comparable to a black-and-white photo.
Anomalous trichromacy is divided into disorders in the perception of red (protanopia), green (deuteranopia), and violet-blue (tritanopia). The vision system of people who have anomalous trichromacy perceives all three primary colours, but less perfect and even wrongly, under some conditions. People usually don't notice that their eyes are affected by this condition.
In Dichromacy the eye does not perceive any of its primary colours. People see a colour similar to brown. They are oriented towards brightness. The most common disturbances are the misperception of green (deuteranopia about 75%) and red (protanopia about 25%).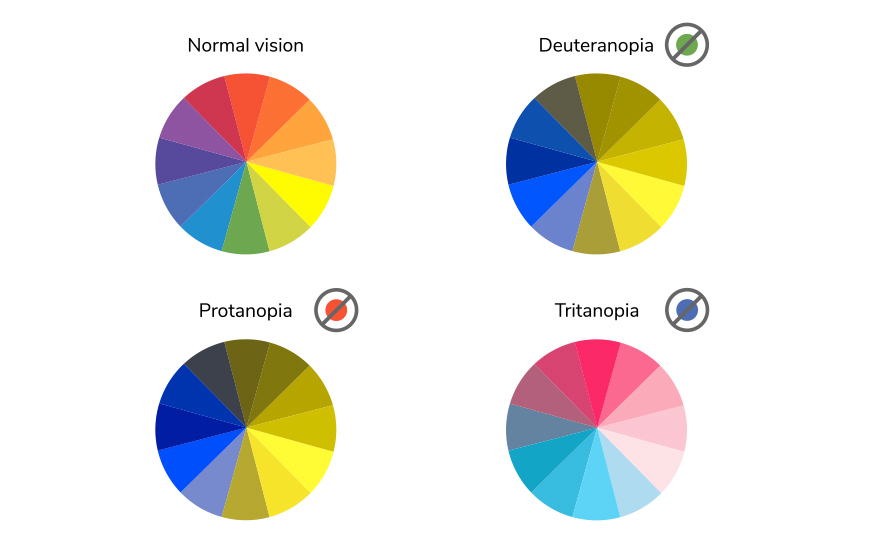 What causes Daltonism?
The congenital disorders are related to the X chromosome, i.e., mothers are the carrier. However, Daltonism manifests more in boys (8%), than in girls (0,5%).
The acquired colour blindness is caused by visual system or eye pathology, poisoning or intracranial injuries.
The treatment of Daltonism
It is possible to restore colour vision with the application of coloured filters. In order to diagnose the type of Daltonism, optometrists use the so-called pseudoisochromatic table for screening colour-blindness, i.e., a colourful blot of letters or numbers.
Other terms starting at D