DAILIES AquaComfort Plus (30 lenses)
Specsavers Easyvision Daily Vitrea (Ultimate) is also sold by name DAILIES AquaComfort Plus (30 lenses)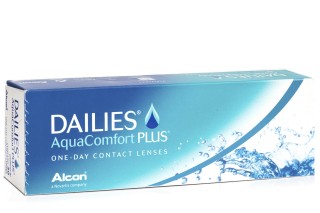 Specsavers Easyvision Daily Vitrea (Ultimate) is also sold by name
DAILIES AquaComfort Plus (30 lenses).
A clear choice for optimal vision
We have unique advantages
Loyalty program
From your first purchase you get bonus points which can be exchanged for free gifts.
Free delivery for orders over €59
For orders of lower value you can use DHL Express delivery services from €3.98
365 day guarantee
Guaranteed replacement lenses if you change the prescription.
Details of Specsavers Easyvision Daily Vitrea (Ultimate)
DAILIES AquaComfort Plus (30 lenses) daily contact lenses from Alcon are spherical contacts designed for the correction of myopia and hyperopia. They offer the wearers exceptional comfort and easy manipulation while using a unique moisturising technology. These lenses from the Dailies series ensure great visual acuity and are suitable for those just getting started with contact lenses.
Dailies AquaComfort Plus are made from nelfilcon A material and feature three hydrating agents for phenomenal comfort:
Friction-reducing HPMC lubricant in the blister package solution provides immediate comfort upon insertion.
Blink-activated PVA moisture agent keeps the eyes hydrated and fresh from insertion to removal.
Wetting PEG agent minimises friction between the lens and eyelid to maintain high wearing comfort.
Benefits of DAILIES AquaComfort Plus contact lenses
LightStream Lens Technology used in AquaComfort Plus lenses ensures quality and comfort in every lens. What other benefits can you expect from DAILIES AquaComfort Plus?
All-day freshness – Blink-activated moisture technology ensures refreshing hydration throughout the day.
Highly comfortable – A cushioning lubricant and superior tear film stability ensure comfort and visual acuity upon insertion.
Hygienic wear – Hygienic daily disposable lenses allow for a fresh pair each day.
Crisp and clear vision – Excellent tear film stability keeps vision comfortable and clear.
Easy handling – Tinted lens for simplified handling.
Who are DAILIES AquaComfort Plus contacts for?
Alcon's DAILIES AquaComfort Plus are a comfortable and convenient lens designed for those who:
have myopia (short-sightedness).
have hyperopia (long-sightedness).
want daily disposable contact lenses that don't require daily care.
have sensitive or dry eyes.
prefer a daily wearing schedule.
only wear contact lenses occasionally.
How long can you wear DAILIES AquaComfort Plus?

Alcon DAILIES AquaComfort Plus can be worn for one day only. To ensure clear vision and healthy eyes, a fresh pair should be inserted each morning and then disposed of each night. Your eye care professional can help you determine if daily or monthly lenses are right for you.
Can you sleep in DAILIES AquaComfort Plus?

No, DAILIES AquaComfort Plus cannot be slept in. Wearing contacts overnight that aren't approved for extended wear can lead to infections and other serious eye problems. After one day of wear, throw your dailies away to keep your eyes healthy and comfortable.
Are Dailies or Acuvue better?

Both are popular contact lens brands from trusted manufacturers. Acuvue's popular 1-DAY Acuvue Moist daily lenses feature high oxygen transmissibility (33 Dk/t) and LACREON technology to lock moisture in, making them suitable for those with dry or sensitive eyes. DAILIES AquaComfort Plus contact lenses from Alcon have high water content (69%) and three moisturising agents for hydrating comfort from insertion until removal. Always consult your eye care specialist before choosing your lenses and they can recommend the best option.
What is the difference between DAILIES AquaComfort Plus 30-pack, 90-pack, and 180-pack?

DAILIES AquaComfort Plus lenses come in packs of 30, 90, and 180. If one lens is used per day, a 30-pack will last 30 days, a 90-pack will last 90 days, and a 180-pack will last 180 days.

For a lower cost up front, DAILIES AquaComfort Plus (30 lenses) are the least expensive option, followed by DAILIES AquaComfort Plus (90 lenses), and then DAILIES AquaComfort Plus (180 lenses). However, the price per lens decreases as the quantity increases, so the larger pack offers the best value in the long term.
Other daily contact lenses

Some of the other best-selling daily contact lenses include DAILIES Total 1, another popular daily lens from trusted manufacturer Alcon. Lenjoy 1 Day Comfort feature a thin design and a unique moisturising technology for exceptional comfort. SofLens Daily Disposable contacts have an innovative aspheric lens design that ensures sharp vision even in low-light conditions.
Most often sold with eye drops Max OptiFresh 10 ml.
This is a medical device. Read instructions before use.
| | |
| --- | --- |
| Expiration: | At least 36 months |
| Material: | Nelfilcon A |
| Easy handling tint: | Yes |
| Extended wear: | No |
| Water content: | 69 % |
| Oxygen transmissibility: | 26 Dk/t |
| UV filter: | No |
| Silicone Hydrogel: | No |
| Inside-out indicator: | No |
| Lenses in a box: | 30 |
| Power: | from -15.0 to +8.0 |
| Diameter: | 14.0 |
| Base curve: | 8.7 |
| Center thickness: | 0.10 mm |
| Elastic modulus: | 0.89 MPa |
| Weight: | 69 g |
| Manufacturer: | Alcon |
Approved by our customers
From 3604 reviews 98% are positive