SofLens Daily Disposable (30 lenses)
Specsavers Easyvision One Day is also sold by name SofLens Daily Disposable (30 lenses)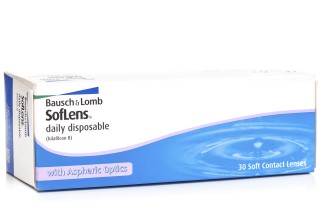 Specsavers Easyvision One Day is also sold by name
SofLens Daily Disposable (30 lenses).
A clear choice for optimal vision
We have unique advantages
Loyalty program
From your first purchase you get bonus points which can be exchanged for free gifts.
Free delivery for orders over €59
For orders of lower value you can use DHL Express delivery services from €3.98
365 day guarantee
Guaranteed replacement lenses if you change the prescription.
Details of Specsavers Easyvision One Day
SofLens Daily Disposable (30 lenses) contact lenses are manufactured by Bausch & Lomb. The remarkably thin lenses feel natural on the eye for unmatched all-day comfort. ComfortMoist Technology keeps eyes feeling fresh and healthy from insertion to removal. High Definition Optics reduces spherical aberration to ensure vision is sharp and clear, even in low-light conditions.
These daily disposable lenses from the popular SofLens range are an outstanding choice for convenience and quality.
Benefits of SofLens Daily Disposable contact lenses
Sharp, clear, crisp vision without blurriness, even at night
Comfortable wear thanks to hydrating ComfortMoist Technology and high water content
The aspheric lens design of High Definition Optics reduces spherical aberration for clearer imaging
Easy insertion and natural feel on the eye thanks to a soft, thin lens design
Versatility and hygienic as daily lenses require no cleaning or storage
Who are SofLens Daily Disposable contacts for?
For performance and comfort, SofLens daily lenses are a great choice. They are idea for those who:
have myopia (short-sightedness) or have hyperopia (long-sightedness)
want a daily disposable contact that doesn't require daily care
prefer a daily wearing schedule
only wear contact lenses occasionally
How long can you wear SofLens Daily Disposable?

SofLens Daily Disposable lenses are designed to be worn for up to one day. Upon removal, the lenses must be discarded.
What happens if you wear daily contacts for more than a day?

No matter what brand, reusing or wearing a daily contact longer than recommended can greatly increase the risk of eye infection. It can also lead to other issues such as discomfort and dry eyes.
Can you sleep in SofLens Daily Disposable contacts?

No, sleeping in SofLens Daily Disposable contacts is not safe and can lead to irritation and infection. Anyone curious about sleeping in lenses should consult their eye care professional about extended wear contact lenses.
Are daily contact lenses better for my eyes?

Daily disposables are considered one of the healthiest lens choices. The individual blister packs ensure optimal hygiene and convenience. Because dailies prevent day-to-day buildup of deposits and irritants such as pollen, they are a great option for people with sensitive eyes or allergies. Keep in mind that choosing dailies or monthly lenses depends on your eyes and recommendations from your eye care specialist.
Can I wear daily disposable contacts for two days?

No, daily disposables cannot be worn for two days. Dailies must be discarded after a single day of use. If you've removed them prior to a full day of wear, they must also be thrown away upon removal.
What is the difference between SofLens Daily Disposable 30-pack, 90-pack, and 180-pack?

SofLens Daily Disposable lenses come in packs of 30, 90, and 180. If one lens is used per day, a 30-pack will last 30 days, a 90-pack will last 90 days, and a 180-pack will last 180 days.

In terms of upfront cost, the 30-pack is the least expensive option, followed by SofLens Daily Disposable (90 lenses), and then SofLens Daily Disposable (180 lenses). However, the price per lens decreases as the quantity increases, so purchasing the larger pack can save you money in the long run.
Other daily contact lenses

Other popular daily disposable lenses include Lenjoy 1 Day Comfort, an extra thin lens with an innovative aspheric design that allows for quick focussing. Advanced DAILIES Total 1 offer wears superb hydration with nearly 100% water content near the outer lens surface. For exceptional comfort upon insertion until removal, DAILIES AquaComfort Plus feature clever blink-activated moisture technology.
Most often sold with eye drops Max OptiFresh 10 ml.
This is a medical device. Read instructions before use.
| | |
| --- | --- |
| Expiration: | At least 12 months |
| Material: | Hilafilcon B |
| Easy handling tint: | Yes |
| Extended wear: | No |
| Water content: | 59 % |
| Oxygen transmissibility: | 19 Dk/t |
| UV filter: | No |
| Silicone Hydrogel: | No |
| Inside-out indicator: | No |
| Lenses in a box: | 30 |
| Power: | from -9.0 to +6.5 |
| Diameter: | 14.2 |
| Base curve: | 8.6 |
| Center thickness: | 0.09 mm |
| Weight: | 90 g |
| Manufacturer: | Bausch & Lomb |
Approved by our customers
From 3604 reviews 98% are positive