Tommy Jeans TJ 0018/CS 003 IR 55 (clip-on) TJ 0018/CS 003 IR 55
Clip-on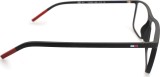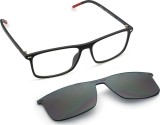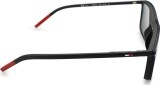 Top-quality lenses made by Lentiamo
Preventing reflexion

Lentiamo adds a free anti-reflective layer to every pair of glasses. The hard coating prevents unwanted glare and scratches. It ensures basic protection against water and dirt.

Lightweight plastic lenses

CR-39 lenses are prescribed for their comfort and sturdiness. The lightweight plastic offers excellent optics and is ideally suited for all common low prescriptions.

100% UV protection

Polycarbonate is a highly impact-resistant plastic, making it the preferred material for children's sunglasses, safety and sports glasses. Polycarbonate lenses offer 100% UV protection.
A clear choice for optimal vision
Authorised reseller
We exclusively sell eyewear from renowned brands.
All frames in stock
Prescription glasses customised and dispatched within 6 working days.
Free delivery
The delivery of your glasses and sunglasses is on us.
Product details
Tommy Jeans is one of the two lines of the prestigious Tommy Hilfiger brand which mainly focuses on the younger generation. It took inspiration in 1970's in the USA and is recognizable by its logo in red, white, and blue which portrays the American flag. The collection of glasses by Tommy Jeans is known for a classic style that combines new trends, high quality, and timeless design.
The men's glasses Tommy Jeans TJ 0018/CS 003 IR 55 (clip-on) are popular with everyone.
Glasses frame
The black colour of the frame perfectly matches a cool skin tone and light blonde, light brown or black hair.
Rectangle frames are an ideal choice for those with an oval or round face shape.
The frame of the glasses is made of eco-polyamide. This material is a new class of bioplastics that are derived from renewable resources such as natural fats and oils. Eco-polyamide represents a more environmentally friendly alternative to the usual frame materials and contributes to environmental protection.
The glasses also include an additional sun clip, which is easily attached to the frame of the glasses and turns them into shades. The clip perfectly follows the shape of the frame and its installation is very quick and easy. However, if you have higher plus dioptres, it is necessary to choose a thinner version of the lenses so that the clip does not touch the front spherical surface of the lenses and fits properly on the frame.
Full-rimmed glasses have the most common types of frames which consist of a frame front and a pair of temples. They will elevate and complement your style thanks to their noticeable design. One of their advantages is sturdiness, durability, the fact that they fully enclose the lens, and mainly their protection against damage. This type of frame is suitable for all lenses, including lenses with higher optical power.
Accessories
We deliver the glasses in their original case. The colour of the case and its design may vary.
The cloth supplied is ideal for cleaning and caring for glasses. Some models may come with a fabric bag instead of a cloth.
Explore the full glasses range to find more styles or check out our glasses guide if you need help choosing.
This is a medical device. Read instructions before use.
| | |
| --- | --- |
| Gender: | Men |
| Frame shape: | Rectangle |
| Frame type: | Full rim |
| Clip-on: | Yes |
| Frame material: | Eco-friendly - Eco-polyamide |
| Frame color: | Black |
| Case: | Yes |
| Cleaning cloth: | Yes |
| Size: | M |
| Lens width: | 55 mm |
| Lens height: | 37 mm |
| Bridge width: | 16 mm |
| Temple length: | 140 mm |
| Width: | 135 mm |
| Code: | TJ 0018/CS 003 IR 55 |
| Weight: | 100 g |
| Brand: | Tommy Jeans |
| Category: | Glasses |
Comments about Tommy Jeans TJ 0018/CS 003 IR 55 (clip-on)
Approved by our customers
From 3604 reviews 98% are positive