Biofinity Multifocal CooperVision (6 lenses)
Easyvision Monthly Opteyes Multifocal is also sold by name Biofinity Multifocal CooperVision (6 lenses)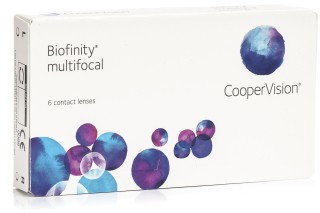 Easyvision Monthly Opteyes Multifocal is also sold by name
Biofinity Multifocal CooperVision (6 lenses).
A clear choice for optimal vision
We have unique advantages
Loyalty program
From your first purchase you get bonus points which can be exchanged for free gifts.
Free delivery for orders over €59
For orders of lower value you can use DHL Express delivery services from €3.98
365 day guarantee
Guaranteed replacement lenses if you change the prescription.
Details of Easyvision Monthly Opteyes Multifocal
Experience clear, natural vision at all distances with Biofinity Multifocal contact lenses from CooperVision. These monthly lenses in the Biofinity range are specifically designed to correct presbyopia.
The Comfilcon A multifocal lenses offer all the benefits of modern silicone hydrogel contact lenses. They are naturally wettable and super hydrophilic to ensure long-lasting hydration and to keep eyes feeling fresh and healthy throughout the day.
Biofinity Multifocal also feature unique Balanced Progressive and Aquaform technologies that keep lenses naturally moist while providing exceptional visual clarity.
Benefits of Biofinity Multifocal contact lenses
Biofinity Multifocal are monthly contact lenses designed to correct presbyopia through multiple zones of vision correction in a single lens. Explore other benefits of these innovative multifocal contact lenses by Biofinity:
Clear vision at all distances - Balanced Progressive Technology features three zones of correction for smooth visual transitioning and clear vision for near, far and intermediate distances.
Healthier eyes - Highly breathable silicone hydrogel material allows more oxygen to reach the cornea and provide better visual acuity.
Greater wearing comfort - Exclusive Aquaform Technology locks in moisture and keeps lenses perfectly lubricated even during periods of reduced blinking like when reading a book.
Less irritation and fatigue - High oxygen permeability reduces irritation through an optimal balance between water content and oxygen permeability.
Overnight wear - These lenses are designed for daily wear but can also be worn continuously up to seven days after approval from an ophthalmologist.
Who are Biofinity Multifocal contacts for?
Biofinity Multifocal contact lenses are perfect for those who want premium comfort and clarity of vision. They are intended for:
Those suffering from presbyopia
People over 40 years old
Those looking for monthly contact lenses
Those who may consider the possibility of continuous wear
Frequently asked questions about Biofinity Multifocal (6 lenses)
How long can you wear Biofinity Multifocal?

Biofinity Multifocal are designed for daily wear and nightly removal with replacement after 30 days. They also offer the flexibility of extended wear contact lenses for up to six nights and seven days. It's necessary to remove the lenses and use contact lens solution after a period of continuous wear. Always consult your eye care professional to see if you are a candidate for overnight use.
What are the advantages of multifocal contact lenses?

Multifocal contact lenses offer exceptional comfort and vision correction for all distances, making them extremely convenient. They eliminate the need for multiple glasses or reading glasses and are perfect for sports and active lifestyles.

Could they be right for you? Simply consult your eye care specialist. Contact lens prescriptions and parameters for multifocal lenses contain all the same measurements of your standard prescription plus a new parameter 'ADD.' This is the amount of magnifying power needed to correct close-up vision.
What are the disadvantages of multifocal contact lenses?

It can take time to adjust to multifocal contact lenses if you've never worn them before. During the adjustment period, you might experience nighttime glare or shadows as your eyes get used to the new viewing experience.

Because of the complex lens design, multifocal contact lenses can also be more costly than other lenses as well. An eye care professional must determine the appropriate prescription and carefully fit multifocal lenses so they work properly and are comfortable.
Can you sleep in Biofinity Multifocal contacts?

Yes, Biofinity Multifocal contact lenses can be slept in and worn for up to seven days of extended wear. In general, it is safe to wear these lenses overnight but an eye care professional should determine if sleeping in contacts is right for you. Never sleep in lenses that aren't specifically designed for overnight wear.
What is the difference between Biofinity Multifocal (6 lenses) and Biofinity Multifocal (3 lenses)?

Biofinity Multifocal (6 lenses) have six lenses in each package. Biofinity Multifocal (3 lenses) have three lenses in each box.

The main difference is how long each box lasts in total. A Biofinity Multifocal 6-pack lasts up to six months and a Biofinity 3-pack lasts up to three months if one lens from the box is used every 30 days. Biofinity Multifocal (3 lenses) are perfect for those who wish to spend less on one order. The price per lens is less when you buy Biofinity Multifocal (6 lenses).
Other multifocal contact lenses

Other popular multifocal lenses include Acuvue Oasys Multifocal, two-weekly lenses for daily wear. These comfortable lenses feature a UV filter for added eye protection.

Options for other monthly multifocal contacts include Air Optix Plus Hydraglyde Multifocal which are equipped with HydraGlyde Moisture Matrix to seal in moisture to the lens for all-day comfort. PureVision 2 for Presbyopia are easy-to-fit and designed for optional continuous wear up to 30 days or 29 nights after approval from your eye care professional.
Customers who bought these lenses also bought Solunate Multi-Purpose 400 ml with case.
This is a medical device. Read instructions before use.
| | |
| --- | --- |
| Expiration: | At least 35 months |
| Material: | Comfilcon A |
| Easy handling tint: | Yes |
| Extended wear: | Yes |
| Water content: | 48 % |
| Oxygen transmissibility: | 128 Dk/t |
| UV filter: | No |
| Silicone Hydrogel: | Yes |
| Inside-out indicator: | No |
| Lenses in a box: | 6 |
| Power: | from -10.0 to +6.0 |
| Diameter: | 14 |
| Base curve: | 8.6 |
| Add: | from +1.00 to +2.50 |
| Center thickness: | 0.09 mm |
| Elastic modulus: | 0.75 MPa |
| Weight: | 37 g |
| Manufacturer: | CooperVision |
Approved by our customers
From 3604 reviews 98% are positive