Air Optix Night & Day Aqua (6 lenses)
Easyvision Aquaeyes is also sold by name Air Optix Night & Day Aqua (6 lenses)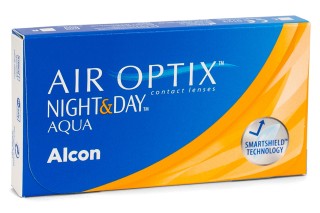 Easyvision Aquaeyes is also sold by name
Air Optix Night & Day Aqua (6 lenses).
A clear choice for optimal vision
We have unique advantages
Loyalty program
From your first purchase you get bonus points which can be exchanged for free gifts.
Free delivery for orders over €59
For orders of lower value you can use DHL Express delivery services from €3.98
365 day guarantee
Guaranteed replacement lenses if you change the prescription.
Details of Easyvision Aquaeyes
Air Optix Night & Day Aqua are cutting-edge monthly lenses from leading manufacturer Alcon. These outstanding silicone hydrogel contact lenses are part of the popular Air Optix contact lenses range.
The night and day contact lenses feature Lotrafilcon A, a state-of-the-art material that allows for exceptional oxygen transmissibility and comfort. Their high breathability rate coupled with Alcon's unique SmartShield technology enables the possibility of up to 30 nights of continuous wear.
These comfortable aspheric contact lenses are the ideal choice for anyone with a busy schedule or anyone looking for a low-maintenance eye care routine.
Benefits of Air Optix Night & Day Aqua contact lenses
Day and night contacts lenses offer users flexibility and total convenience. What makes Air Optix Night & Day unique?
Breathability – Modern silicone hydrogel material results in healthier eyes and remarkable comfort.
Increased visual clarity – The aspheric lens design offers precise light guidance for clearer vision.
Less irritation – A high level of oxygen permeability and optimal water content allow for sufficient oxygen to reach the eyes, even while sleeping, which ensures less irritation.
Hygienic comfort – SmartShield technology combats build-up of protein and lipid deposits for a smoother lens surface and less friction between the eye and eyelid.
Overnight wear – The monthly contact lenses are also approved for continuous wear up to 30 nights after approval from an ophthalmologist.
Easy handling – Helpful blue tint and inside-out indicator for improved handling.
Who are Air Optix Night & Day Aqua contacts for?
Air Optix Night & Day Aqua are designed for anyone in search of a safe and comfortable monthly contact lens. They are a great choice for:
Those with busy lifestyles who take naps or sleep in their contacts
Those who wear contacts regularly
Those who prefer a monthly wear schedule
Those looking for optional continuous wear
Those with a history of dry eyes
Frequently asked questions about Air Optix Night & Day
How long can you wear Air Optix Night & Day Aqua contact lenses?

Air Optix Night & Day Aqua are approved for up to 30 nights of overnight wear. They can also be removed nightly and cleaned and stored using contact lens solution. Consult your optician before sleeping in extended wear contact lenses.
Can you sleep in Air Optix Night & Day Aqua?

Yes, Air Optix Night & Day Aqua are approved for up to 30 days and nights of continuous use. If you're interested in comfortable overnight wear and clear vision upon waking up, consult your eye care professional to see if you're a good candidate for sleeping in contact lenses.
Are extended wear contacts safe?

Yes, extended wear contacts are safe. Air Optix Night & Day Aqua feature the highest level of oxygen transmissibility of any soft contact lens available. They allow the eyes to receive ample oxygen even when closed overnight. This reduces the risk of infection, irritation and corneal damage.

Continuous wear is not suitable for every user. There are some risks associated with sleeping in lenses that aren't specifically designed for overnight wear. Therefore, it's necessary to consult an eye care professional to see if extended use is right for you.
What is the difference between Air Optix Aqua and Air Optix Night & Day Aqua?

Air Optix Aqua and Air Optix Night & Day Aqua are comparable in quality and performance. However, Air Optix Night and Day are approved for up to 30 nights' continuous wear. Classic Air Optix Aqua can be worn continuously for up to six nights and seven days.

Both feature a high-performance aspherical design, breathable silicone hydrogel material and advanced comfort technologies. Your ophthalmologist can help you choose the best option for you.
Other monthly contact lenses

Some other popular monthlies include Air Optix Plus Hydraglyde which have state-of-the-art HydraGlyde Moisture Matrix technology for continuous hydration throughout the day. Biofinity are composed of Comfilcon A, a highly hydrophilic silicone hydrogel material that locks in moisture for all-day comfort. If you are looking for sharp vision for low-light conditions, the aspheric design of PureVision 2 ensures a clear picture from morning until night. SofLens 59 provide excellent comfort thanks to their deposit-resistant material.
Customers who bought these lenses also bought Solunate Multi-Purpose 400 ml with case.
This is a medical device. Read instructions before use.
| | |
| --- | --- |
| Expiration: | At least 12 months |
| Material: | Lotrafilcon A |
| Easy handling tint: | Yes |
| Extended wear: | Yes |
| Water content: | 24 % |
| Oxygen transmissibility: | 175 Dk/t |
| UV filter: | No |
| Silicone Hydrogel: | Yes |
| Inside-out indicator: | Yes |
| Lenses in a box: | 6 |
| Power: | from -10.00 to +6.00 |
| Diameter: | 13.8 |
| Base curve: | 8.4, 8.6 |
| Center thickness: | 0.08 mm |
| Elastic modulus: | 1.2 MPa |
| Weight: | 24 g |
| Manufacturer: | Alcon |
Approved by our customers
From 3604 reviews 98% are positive